Lady Luck Smiles on Ogunquit 'Guys and Dolls'
Delicious re-creation of Tony Award-winning 1992 Broadway revival stars Richard Kind, Liz Larsen, Glory Crampton and Christian Hoff at the famed Maine summer playhouse
If it ain't broke, don't fix it. These are words the Ogunquit Playhouse has obviously chosen to live by in staging its delightfully earnest re-creation of the 1992 Tony Award-winning revival of the classic American musical Guys and Dolls.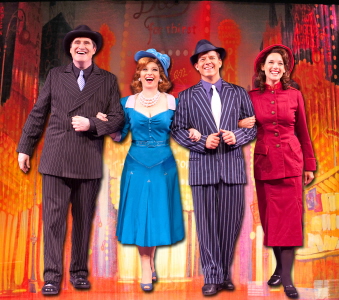 Unlike the much-maligned – and short-lived – Broadway version that Des McAnuff helmed this past spring, the Ogunquit production wisely relies on good old-fashioned faith in the material to elicit refreshingly original performances that crackle and shine.
Directed by Steven Beckler, the 1992 production supervisor under Tony Award winner Jerry Zaks, this Guys and Dolls bursts with color and light, energetically bringing to life Damon Runyon's fabled Times Square denizens – gamblers, chorus girls, mobsters and evangelists – all exquisitely coiffed and costumed in circa 1950 fantasy comic book style. Brawny guys' guys spew Swerling and Burrows' faux-elegant low-brow vernacular with a natural ease and, along with their various dolls and the sincere missionaries who are doggedly out to save their souls, strike a perfect balance between exaggerated cartoon caricature stereotypes and the living, breathing imperfect people whose hearts all yearn for something bigger underneath.
In the lead roles, a quartet of bona fide Broadway theater professionals merrily work their way through the show's animated book and beautifully interwoven jazz-inflected score.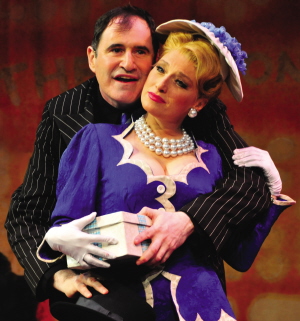 Richard Kind of TV's Spin City and Mad About You is a thoroughly endearing Nathan Detroit, the hangdog "entrepreneur" who tries desperately to keep his long-suffering fiancée of 14 years Miss Adelaide (the fabulous Liz Larsen) at bay while coming up with the bankroll and the hideaway to operate his "oldest established permanent floating crap game in New York." His $1000 bet with the suave tough-guy Sky Masterson (a rather bland Christian Hoff who won a Tony Award for his work as bad boy Tommy DeVito in Jersey Boys) sets in motion Sky's rakish attempt to charm the buttoned up missionary Sarah Brown (a lovely and spunky Glory Crampton) into traveling to Havana with him for dinner. A few broken promises and a number of dulce de leches later, and love proves to be a stronger addiction than either vice or virtue – for either couple.
Frank Loesser's intoxicating character-driven score filled with unforgettable words and music sounds fresh and new here, delivered with truth, vim and vigor by a vocally gifted cast that, for the most part, is perfectly suited to their roles. Music director Ken Clifton's swinging seven-piece orchestra also effortlessly shifts from the smooth romantic tones of Loesser's love ballads to the pulsating masculine rhythms that spring from the underbelly of a bygone Broadway and 42nd Street. The richly harmonic gambler's hymn "The Oldest Established" and the rollicking revivalist gospel "Sit Down, You're Rockin' the Boat" articulate the sublime paradox of gambling as religion magnificently.
To read my complete review at BroadwayWorld.com, click here.
PHOTOS: Richard Kind as Nathan Detroit, Liz Larsen as Miss Adelaide, Christian Hoff as Sky Masterson and Glory Crampton as Sarah Brown; Richard Kind and Liz Larsen