Boston Pops: A Grand Night for Singing
Tony Award Winner Victoria Clark and Vocal Fellows of the Tanglewood Music Center perform "A Richard Rodgers Celebration" with the Boston Pops

Tony Award winner Victoria Clark took to the concert stage this week, joining Keith Lockhart and the Boston Pops, along with Vocal Fellows of the Tanglewood Music Center, in A Richard Rodgers Celebration. The first half of the program was devoted to the music of Rodgers and Hart including songs from Babes in Arms, I Married an Angel, The Boys from Syracuse, and A Connecticut Yankee. Act II was filled with showstoppers from Rodgers and Hammerstein's numerous Broadway hits – Oklahoma!, The Sound of Music, The King and I, South Pacific, and Carousel.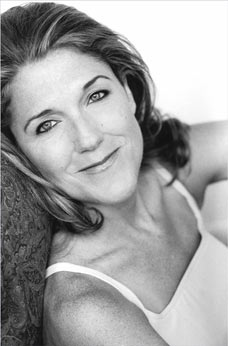 The evening played to Clark's considerable strengths as an actress, setting her free from the traditional concert format and letting her move about the stage in character. Singing effortlessly and seeming completely at ease, Clark delivered penetrating renditions of her more somber numbers and frolicked through several lighter selections that showed off delightful comic skills.
She asserted her understated power and vocal control right from the opening number, holding the one note in Johnny One Note so long that Maestro Lockhart pointed to his watch as if to say, "We haven't got all night." She was equally playful as Ado Annie singing "I Cain't Say No" from Oklahoma! and as Nellie Forbush with "I'm Gonna Wash That Man Right Out-a My Hair" from South Pacific.
Clark's best numbers were polar opposites in tone – Rodgers and Hart's whimsical "To Keep My Love Alive" from A Connecticut Yankee and Rodgers and Hammerstein's achingly ironic "The Gentleman Is a Dope" from Allegro. In the former Clark cheerfully, sweetly, and a little maniacally ran through the many ways in which she killed her many husbands – before they had a chance to kill her love with their many failings. In the latter, she expressed the piercing vulnerability of a woman in love with a man incapable of appreciating the joy he could have with her. In both songs Clark's subtle restraint made the impact that much more powerful.
Other highlights of the evening were a very masculine "There Is Nothing Like a Dame" by the men's ensemble; the longing yet hopeful duet "We Kiss in the Shadow" featuring soprano Allison Angelo and tenor Matthew Anderson; and the beautifully arranged down-tempo medley of "A Cockeyed Optimist/It Might as Well Be Spring/What's the Use of Wond'rin" sung as a sisterly duet between Angelo and mezzo soprano Sarah Kelsey. The 11 o'clock number which brought down the house went not to Clark but to baritone Alex Lawrence who infused Billy Bigelow's "Soliloquy" from Carousel with fresh paternal interpretations and genuine spontaneity. His warm, unforced baritone expressed pride, bravado, uncertainty and determination to be the best father a son – or daughter – ever had.
The Pops' best two instrumentals in the program were a plaintive and passionate My Funny Valentine, one of the greatest romantic ballads ever written, and a surprisingly jazzy The Surrey with the Fringe on Top, complete with clip-clopping horse hooves and the feel of a bobbing carriage in motion toward the horizon. The grand finale was a rootin' tootin' ensemble celebration of Oklahoma! complete with straw cowboy hats and a square-dancing Maestro.
PHOTO: Victoria Clark