The Huntington's "Pirates!" Shake Their Booty
Sexually charged "plundering" of Gilbert and Sullivan's "Pirates of Penzance" bobs along merrily on a sea of contemporary humor

If you like a good stiff shot of Captain Morgan's® as the spike in your quaff of Coke®, then you'll love the intoxicating send-up of Gilbert and Sullivan currently docked at the Huntington Theatre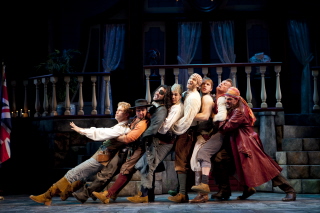 Company in Boston. Called simply Pirates! (or Gilbert and Sullivan Plunder'd), this bowdlerized version of The Pirates of Penzance plays fast and loose with the original comic opera, shifting the place and time from England during the Victorian era back to the Caribbean of the 16th century. In addition, modern-day potty humor and in-your-face rap pepper the vastly revised book and lyrics penned by co-creator Nell Benjamin (Legally Blonde).
The result is a sort of anachronistic Black-Beard-meets-Jack-Sparrow mash-up of swarthy, swashbuckling brigands spouting frequent contemporary ribald asides. If you enjoy Disneyworld and the underground water ride that spawned a mega-million-dollar movie franchise, then Pirates! is precisely your cup of yo ho ho and a bottle of rum.
While recent merchant ship highjackings have cast a serious pall on Hollywood's more romantic image of Old World piracy, this raucous "plundering" of the G&S classic is a good natured throwback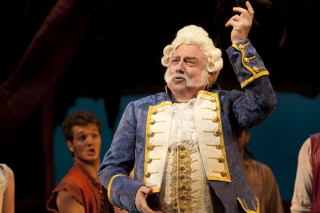 that paints a picture of snarling seafarers who go all weak in the knees once they hit dry land. You see, like all good sailors coming into port, the boys just want to have fun. But a nasty curse that robs them of their land legs dooms them to stay afloat forever – that is, unless they can marry themselves off to fair young virgins. Enter the island's Major-General (the delightfully droll Ed Dixon) and his brood of six dimwitted blonde look-a-likes – plus one brunette named Mabel (golden voiced Farah Alvin), who in this version is a brainy adventuress – and the course is set for lots of sexually charged tomfoolery.
This new slant on an old salt – conceived and shaped by Benjamin along with director Gordon Greenberg and arranger John McDaniel – preserves the basic plot elements of The Pirates of Penzance. Young Frederic (a suitably curly-haired, dewy-eyed and rosy-cheeked Anderson Davis) is freed from his indentured servitude to the Pirate King (a handsomely swaggering Steve Kazee) upon reaching his 21st birthday. But wait! An "ingenious paradox" – a comic technicality that renders Frederic younger than he thought he was – keeps him from achieving independence and enjoying an honest life beside Mabel, his newfound love.
Also remaining in tact in Pirates! is the soft spot that the Pirate King has for orphans, along with the many jokes that arise from this incongruous fact. However, much of Gilbert's original giddy wit and cleverly couched social and political satire is lost in sophomoric sit-com updates. Many of Benjamin's additions to the book are funny, yes, but her oddly interpolated lyrics pale against the brilliance of the originals. Instead of adding shrewd insights into contemporary foibles and hypocrisies, they merely add crude winks to common targets that have been similarly skewered countless times on shows like Saturday Night Live.
Some transformations work quite well. The Sergeant (Mel Johnson, Jr.) and his corps de Police, for example, benefit greatly from an unexpected but perfectly apt Reggae/Calypso arrangement of their second act number "Tarantara." Mabel also becomes a very interesting early feminist whose wizardry at mathematics both amazes and entrances Frederic.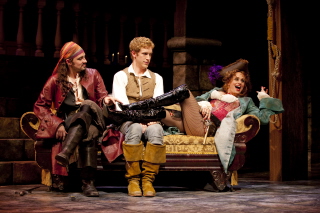 The character of Ruth (the leggy, lithe and limber Cady Huffman), however, suffers from an identity crisis. Previously written as Frederic's dowager nurse, here she is re-envisioned as a voluptuous sex toy of the Pirate King and his crew. Dressed as a commanding vixen, she looks as though she will wield some real power as the story unfolds. But Huffman, a Tony Award winner for playing the kittenish Swedish window dressing named Ulla in The Producers, plays Ruth as – well, a kittenish piece of window dressing whose greatest claim to fame is that she looks fabulous in thigh high boots. Instead of being the truly liberated and unapologetic pirate queen that's promised, she ends up as little more than a well endowed object of juvenile panting and leering.
Kazee, on the other hand, has wicked good fun channeling Johnny Depp as the Pirate King. Sure, it's an obvious rip off, complete with dreadlocks, long fingernails and bandana. But he does his impersonation so well and exudes such devilish charm that you laugh right along with him. He is at his roguish best when bantering with the blustering Dixon during the exhilarating tongue-twister "A Modern Major-General" ("I'm sorry, I didn't get that middle part," he muses) or when flirting with an (un)suspecting audience member and fumbling with her family jewels. Although Kazee's voice unfortunately lacks the silky rich baritone needed to rattle the rafters in his namesake song "The Pirate King," his commanding presence and impeccable comic timing more than make up for the occasional rough note.
As Frederic, Davis is the perfect portrait of innocence. His acting is completely unaffected, and his wide-eyed, puppy-dog demeanor is utterly endearing.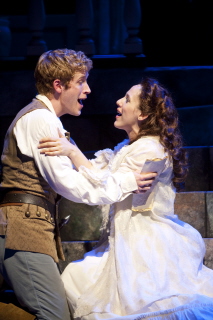 But his voice is problematic at times, too, particularly when reaching into his upper register. His duet "Stay, Frederic, Stay" with the magnificently mellifluous Alvin as Mabel, though, is the epitome of lyric sweetness.
Despite the spottiness of some of the show's revisions, a terrific ensemble keeps the wind blowing in this rollicking pirate ship's sails. Their collective energy propels the evening forward joyously. Kristen Sergeant, Julia Osborne, Sarah Ziegler, Erica Spyres, Brittney A. Morello and Krista Buccellato as the Major-General's deliciously vapid filial sextet manage to twitter, simper and sigh together hilariously as one. They are the very model of a Major-General's migraine. Their hale and hearty pirate suitors are equally entertaining, leaping, tumbling, and exuberantly executing Denis Jones' athletic choreography. All joyfully embrace Gordon Greenberg's tongue-in-cheek vaudeville-style direction. They cavort and careen nonstop across David C. Woolard's breathtaking, nautical-inspired set.
Pirates! is not your grandfather's Gilbert and Sullivan. Low-brow burlesque often obscures the more subtle, albeit scathing, social commentary that was the hallmark of the original. It is, however, a great deal of frothy fun. So if your head comes above the bottom of the welcome sign as you enter the Pirates of the Caribbean, simply strap yourself in and enjoy the ride.
Cast in order of appearance:

Steve Kazee, Pirate King; Caesar Samayoa, Samuel; Anderson Davis, Frederic; Cady Huffman, Ruth; Kristen Sergeant, Kate; Julia Osborne, Edith; Sarah Ziegler, Jane; Erica Spyres, Isabel; Brittney A. Morello, Pippa; Krista Buccellato, Cornelia; Mel Johnson, Jr., Sergeant; Farah Alvin, Mabel; Ed Dixon, Major-General
Book and lyrics by William S. Gilbert; music by Arthur S. Sullivan; conceived by Gordon Greenberg, Nell Benjamin and John McDaniel; additional book and lyrics by Nell Benjamin; music supervision and arrangements by John McDaniel; choreography by Denis Jones; directed by Gordon Greenberg; music direction by F. Wade Russo; scenic design by David C. Woolard; lighting design by Jeff Croiter; sound design by Drew Levy and Tony Smolenski IV; orchestrations by Dan DeLange; fight direction by Michael Rossmy

Performances: Now through June 14, Huntington Theatre Company, Boston University Theatre, 264 Huntington Avenue, Boston
Tickets: Available at the box office by calling 617-266-0800 or visiting http://www.huntingtontheatre.org/
PHOTOS BY T. CHARLES ERICKSON: The ensemble of Pirates; Ed Dixon as the Major-General; Steve Kazee as the Pirate King, Anderson Davis as Frederic; Cady Huffman as Ruth; Anderson Davis and Farah Alvin as Mabel