"The Color Purple:" Tears When I'm Happy
Soul-stirring national tour of the musical adaptation of Alice Walker's Pulitzer Prize-winning novel makes a powerful impression at the Bushnell in Hartford, CT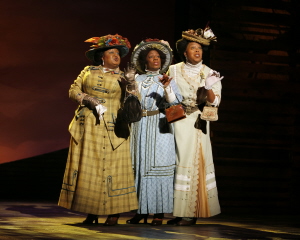 I didn't think The Color Purple would make me cry again after having seen the electrifying performance on Broadway of Fantasia Barrino, Tony Award winner LaChanze's worthy replacement, shortly before the show ended its successful 910-performance run. But I was wrong. At the Bushnell in Hartford the other night the stellar cast of this powerful national tour – headed by the wonderful Kenita R. Miller in the title role – gently poured its spirit of hope and sisterhood over me until, in the show's final jubilant moments, I could do nothing but succumb.
The Color Purple is a deftly abridged musical retelling of both Alice Walker's Pulitzer Prize-winning novel and Stephen Spielberg's 1985 movie of the same name. With a potent and snappy book by Marsha Norman and a penetrating R&B, gospel, and African-influenced score by Brenda Russell, Allee Willis and Stephen Bray, this uplifting tale of one woman's remarkable journey from cowering victim to tower of strength is funny, moving and thrilling all at the same time.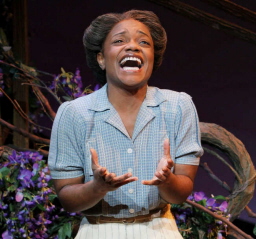 Spanning 40 years in rural Georgia from 1909 to 1949, The Color Purple chronicles the sexual, emotional, and spiritual awakening of the introverted and abused Celie, whose only foothold against darkness and despair is her ability to express her thoughts and feelings through letters to God. Separated from her sister and two children when no more than a child herself and given away by her widowed father to serve as the overbearing Mister's housekeeper, wife and field hand, Celie gradually emerges as a self-reliant and joyful woman thanks to the inspiration of the defiant Sofia and the love of her husband's beautiful and exciting mistress Shug Avery. Shug teaches Celie to see her own good and rejoice in life's beauty, even when prayers seem to fall on deaf ears.
The story, although skillfully condensed, is still packed with salient plot points and narrative detail. But the smooth integration of the music with the book, the fluid staging by director Gary Griffin, and the energetic choreography by Donald Byrd sustain the show's momentum and make a lasting emotional impression. So, too, do the exquisite performances by the entire cast.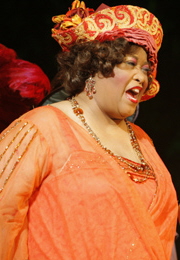 As the pained yet ever hopeful Celie, Kenita R. Miller is quite simply stunning. Her face is a canvas on which her emotions appear with breathtaking sincerity, and her voice infuses every song with a resonance that is deeply moving. "I'm Here," her self-affirming anthem in which she finally embraces her own virtues and celebrates her unwavering inner strength and dignity, is a triumph of determination over adversity.
The warm and wise Angela Robinson is a richly drawn Shug Avery. Sexy, hedonistic, and completely in charge when it comes to her many men, she also reveals a world-weary savvy and vulnerability that make her appreciation of and attraction to Celie tantalizing and completely natural. As Sofia, Broadway holdover Felicia P. Fields is as deliciously domineering as ever. She has an indomitable spirit that turns her big number "Hell, No" into a confidence-building mantra for all of womankind. That great comic swagger which is the hallmark of her personality early on makes it all the more heartbreaking when a brutal beating and incarceration drub her into catatonic submission.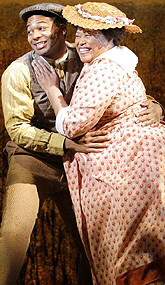 Brandon Victor Dixon as Sofia's on-again-off-again husband Harpo is an adorable boy/man whose sparkling love-hate relationship with Sofia brings many lighter moments to the show. Their playful duet "Any Little Thing" which marks their long-overdue reconciliation is both humorous and steamy. Rufus Bonds, Jr. as Celie's abusive husband Mister garners all the enmity he deserves, but he also manages to earn a modicum of sympathy when his own tortured past comes to life in a gut-wrenching soliloquy called "Celie's Curse." As Nettie, Celie's gentle older sister whose promise of survival is the only spiritual lifeline Celie has, Latrisa A. Harper (the understudy for LaToya London) gives an understated performance glowing with compassion and love. Soft voiced and delicately featured, she conveys a placid optimism that ignites Miller's joy whenever they make a connection, real or imagined.
The Color Purple is a soul-stirring story energized by an infectious score. At times sad, at times infuriating, but ultimately triumphant, its message of hope and faith soars on a joyful noise.
PHOTOS BY PAUL KOLNIK: The Church Ladies (from left) Lynette DuPree, Virginia Ann Woodruff, Kimberly Ann Harris; Kenita R. Miller as Celie; Felicia P. Fields as Sofia; Brandon Victor Dixon as Harpo and Felicia P. Fields