Linda Eder Sings Judy with the Pops
A Tribute to Judy Garland: Linda Eder and the Boston Pops

What could be more comforting to Bostonians on a dark and stormy night than to listen to a great concert with the Boston Pops and be told by Maestro Keith Lockhart after intermission that the Red Sox are beating the Yanks 6-0? It doesn't get much better than this.
That is, until Linda Eder takes the stage.
The slender pop singer with the effortless big belt delivers a scintillating program of Judy Garland standards ranging from jazzy up-tempo medleys of "Almost Like Being in Love/This Can't Be Love" and "Zing Went the Strings of My Heart/The Trolley Song" to creamy romantic ballads like "You Made Me Love You" and the seldom heard "All for You." With a silken voice that moves easily between caressing and celebrating a lyric, Eder sings Garland in her own unique style, paying homage not by imitating but by reinventing. Her arrangements, courtesy of music director and piano accompanist John Oddo, are fresh and jazzy, suggesting the Big Bands that backed her idol but never begging comparison.
Eder transitions from a supple, sultry vibrato to a powerful, unforced belt with the kind of smooth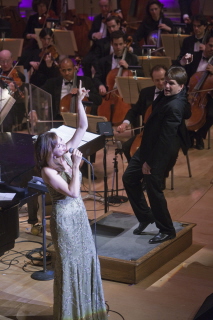 purity and facility that are reminiscent of Garland but never self-consciously so. Her moody "By Myself" is particularly effective, ranging from a soft, slow sadness in the beginning to a loud and proud, joyously liberated finish in which she positively beams. Her "Somewhere Over the Rainbow," sung as a down-tempo lullaby with just a hint of piano accompaniment, is quite simply magnificent. So powerful is her gentle plea that the audience sits transfixed, quiet enough to hear a pin drop.
Throughout the performance Eder appears relaxed and glowing, even when she forgets the words to the fast-paced, Bossa Nova-inflected "You Go to My Head" from Judy's Carnegie Hall comeback triumph. Having announced the song as the one Judy stumbled on during that concert, Eder jokes, "I guess I jinxed myself. I've never forgotten the words to this song before. I forget words to other songs – I know because I read it on the internet all the time – but never this one."
The interplay between Eder and the Boston Pops under the always superb direction of Maestro Lockhart is a seamless blend of emotional vocals and evocative instrumentation. Interpretations are almost intuitively synchronized, with the Pops alternating between subdued support when Eder croons and robust leadership when she dramatically soars. Two Frank Wildhorn pop tunes – Eder's signature "Someone Like You" from Broadway's Jekyll and Hyde and "Vienna" from her solo album titled It's No Secret Anymore – here become symphonic sensations.
As a prelude to Eder's spellbinding concert segment, the Pops went "off book" in the first act, scratching the Tchaikovsky Polonaise from Eugene Onegin that was announced in the program in favor of three epic movie themes – Miklos Rozsa's Ben Hur, Randy Newman's The Natural, and John Williams' magical and mysterious Harry Potter. During the latter the orchestra's percussion section became so enthusiastic that a photo was actually shaken loose of its frame by the rumbling of a "thunder sheet."
Act I ended with the performance of a haunting new work by Michael Daugherty called Spaghetti Western. Featuring principal English horn player Robert Sheena, the symphony in three movements painted a moody picture of a sleepy, dusty Southwestern town being threatened by the approach of a phantom stagecoach pulled by wildly galloping horses. The piece culminated in a musical confrontation at "high noon" between the lone English horn player and the villainous dissonant orchestra.
Act II opened with – appropriately enough for a night on which the Red Sox and the Yankees began a three-game home series – Dropkick Murphys' "Shipping Up to Boston," complete with video highlights of the Sox' 2007 Championship Season. At the sight of Papelbon's trademark celebratory Irish jig and one of Ortiz's many memorable walk-off homeruns, the Symphony Hall audience began cheering right along with the on-screen Fenway Park fans.
Such a setup could be daunting for a vocalist less seasoned than Linda Eder. But as soon as this consummate pro took the stage and began to sing, the Red Sox were relegated to warm-up act status. Quiet please, there's most definitely a talented lady on stage.
PHOTOS BY MICHAEL J. LUTCH: Linda Eder with Keith Lockhart and the Boston Pops