"Red Hot Lovers" a Blast from the Past
Gloucester Stage production of Neil Simon's '60s sex farce holds up surprisingly well due to sincere performances and smart direction
Recapturing the culture of the late 1960s without seeming shallow or cartoonish can be a tricky proposition in the theater.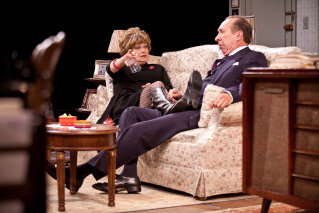 Often sets and costumes replicate the overdone psychedelic sensibilities of Laugh-In while actors bury real feelings beneath contrived posturing.
Not so with Gloucester Stage's delightful production of Last of the Red Hot Lovers, Neil Simon's surprisingly timeless Manhattan comedy that sets the woes of mid-life crisis against the pressures of the Sexual Revolution. Here subtle references in costuming, props, hair and set pieces suggest but don't exploit the period while natural and unforced comedic performances focus attention on the warm and wistful heart beating beneath Simon's caustic jabs.
Lovers follows the trio of attempts that long-married seafood restaurant owner Barney makes at sampling from the banquet of free love. Faithful for 28 years, this rather dull but sincere creature of habit suddenly feels that the hot new age of promiscuity is passing him by. Enter a feisty fish-craving patron named Elaine, a California actress and drama queen named Bobbi, and his wife's uptight but sexually frustrated best friend Jeanette and Barney embarks on a rollercoaster ride of unfulfilled sexual liaisons.
As the new-to-philandering nebbish Barney, Ken Baltin is as sympathetic as a cheater can be, showing that what he really wants from his afternoon trysts – in his absent mother's plastic-wrapped apartment – is a little spice and a lot of human connection. He's your basic insecure Everyman, a good and loving husband whose fear of missing out on his last chance at excitement turns him into a fumbling, bumbling, lothario wannabe. Baltin's Barney is neither evil nor misunderstood. He's just a little confused and a lot inept when it comes to the new sexuality.
Director David Zoffoli has cleverly chosen to cast just one actress to play all three "other women." In so doing, he has made their collective journeys much more comical but also more sincere. Chameleon-like stage stalwart Karen MacDonald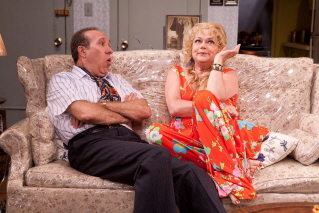 morphs effortlessly from one imperfect lover to another. Her Elaine is brash, crude, and unapologetic, a sexually aggressive married woman whose callous promiscuity can't quite hide some unnamed deeper wound. As Bobbi, MacDonald is a slightly airheaded new age chatterbox who slowly and deliciously descends from endearingly goofy to frighteningly paranoid, telling more and more bizarre stories about "psycho" boyfriends from her past. Then as the disguise-wearing, purse-clutching, morosely neurotic housewife Jeanette, she drives Baltin's Barney to distraction until they finally both realize what they have been looking for all along.
Baltin and MacDonald's honest characterizations, easy comic timing, and palpable tension and chemistry combine with Zoffoli's understated direction to make Last of the Red Hot Lovers a winner. They avoid the pitfalls of playing Simon like stand-up and instead let the jokes flow naturally. With warmth and wisdom, Gloucester Stage has succeeded in dusting off a relic, giving what could be seen as a tired piece of '60s nostalgia a fresh layer of contemporary polish.
PHOTOS by Shawn Henry: Karen MacDonald as Elaine and Ken Baltin as Barney; Ken Baltin and Karen MacDonald as Bobbi