Garland Comes to Life in Stoneham
Kathy St. George presents her popular tribute "Dear Miss Garland" at the Stoneham Theatre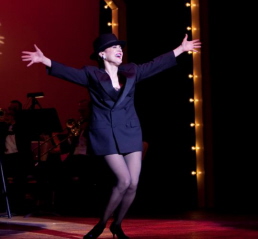 There are times during Kathy St. George's performance of Dear Miss Garland – her musical "love letter" to the woman she says has fascinated her ever since she first saw the movie The Wizard of Oz – when her resemblance to the legendary singer and actress is uncanny. She has the same petite, four-foot-eleven frame as Judy had. She wears her dark hair close-cropped and tousled. She gestures her hands nervously and positions her arms akimbo on jutted hips in stunning visual recreations. And every so often she utters a pixie-ish little giggle that eerily reincarnates the late great star of the silver screen.
Interestingly, it is this very mastery of these iconic Judy mannerisms that is both a blessing and a curse for St. George. Where her physical mimicry succeeds brilliantly, her vocal interpretations fall short. Because of the visual similarities, the expectation is set that we are going to hear Judy in every note that St. George sings. When she doesn't deliver any more than the occasional apt inflection, the cavalcade of memorable movie and concert songs ultimately disappoint.
In the first of two acts – which with an intermission prove to make the evening a bit too long and drawn out – St. George is in her element. She's a terrific actress and comedienne who energetically weaves stories and song together as part documentary and part homage. She punctuates historical milestones and anecdotes, as well as her own personal musings, with unexpectedly reinterpreted songs. "You Made Me Love You," Garland's tribute to "Dear Mr. Gable" in Broadway Melody of 1938, becomes St. George's tribute to "Dear Miss Garland." "Zing Went the Strings of My Heart," normally an up-tempo celebration, becomes a sad goodbye to her father who died two days after she sang it as her radio debut. "The Trolley Song" from Meet Me in St. Louis is also slowed, made into a tender love ballad honoring Judy's husband and director Vincent Minnelli, whom she met – and fell in love with instantly – on the set.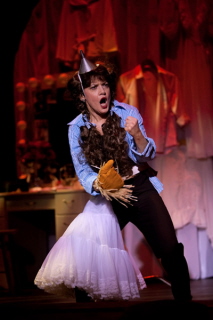 The highlight of Act I, however, is without a doubt St. George's manic abridgement of The Wizard of Oz. In five minutes (more or less) she enacts the entire movie, playing all the characters – Toto, too! – using hilarious low-budget props to suggest a tornado, Glinda's bubble, Auntie Em inside a crystal ball, and the Wizard's fast-disappearing hot-air balloon. "No wonder Judy was on speed," she quips as she brings the torrent of sight gags to a rapid end.
St. George then goes on to chronicle the alternating highs and lows of Judy's life and career. Donning one of her many trademark outfits – black tails, bowler hat, white gloves, and white carnation in the lapel – she sings a lonely "Me and My Shadow" and dances a sad soft shoe. This is followed by two songs and a scene from Judy's comeback film A Star Is Born – "New World," "Somewhere There's a Someone," and the famous dressing room speech that proved once and for all that the youngest of the vaudeville-singing Gumm sisters could indeed act. Unfortunately, the show slows down significantly at this point. The "Somewhere There's a Someone" production number never takes off, perhaps dragged down by the somber material surrounding it. And the Act I closer, Peter Allen's "Quiet Please, There's a Lady on Stage," does nothing to build anticipation for the second act.
At rise of Act II it's pretty clear that the format has shifted from memoirs to Carnegie Hall concert. Three parallel arches of marquee lights frame an excellent, tuxedoed, on-stage seven-piece band. St. George appears in a shimmering black dress with sequined skirt and sparkling silver jacket, hair now teased and sprayed into place and face brightened with rosy stage makeup. She also carries a handheld microphone and plays with its cord demonstratively, whipping it over her shoulder and dragging it dramatically behind as she executes spot-on Judy choreography.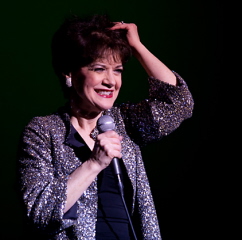 Again St. George has Garland's physical mannerisms down pat. But now even more than in the first act the disparity between her look and sound is jarring. We want so much to be treated to the original's rich, effortless vocals that alternately resonate and soar on numbers like "Chicago," "The Man That Got Away," "Get Happy," and "Over the Rainbow." Instead we see the unmistakable energy and pizzazz of an unforgettable legend but hear the voice of a performer better suited to less iconic songs.
St. George is unquestionably an estimable talent, and her Dear Miss Garland touching and entertaining. But the show is a bit of a frustration. Without the dazzling vocal impersonations that are expected as a result of the imitative set up, the evening never achieves full-blown tribute concert status. Ironically, in a show that wants desperately to evoke memories of an entertainment giant, St. George is at her best when simply being St. George.
PHOTOS BY NEIL REYNOLDS: Kathy St. George as Judy Garland