Local Actress Comes Home for the Holidays with "101 Dalmatians"
Arlington's Erin Maguire makes her Citi Performing Arts Center Wang Theatre debut as the national tour of "The 101 Dalmatians Musical" parks and barks in Boston during Christmas week.
Arlington, Mass. native Erin Maguire will have lots of friends and family in the audience when she appears on stage at the Citi Performing Arts Center Wang Theatre December 23-27.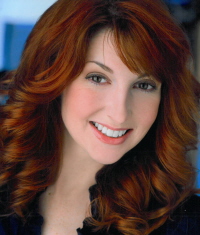 On the road with the national tour of The 101 Dalmatians Musical, Maguire is ecstatic at the prospect of strutting her stuff on home turf during Christmas week.
The brand new Broadway-style musical, which had its world premiere in Minneapolis in October, is on a 25-city tour that includes Miami, Chicago, Pittsburgh, Los Angeles, and New York at the Wamu Theater at Madison Square Garden. Directed by four-time Tony Award winner Jerry Zaks and starring Broadway leading lady and Drama Desk Award winner Rachel York as the infamous Cruella De Vil, The 101 Dalmatians Musical draws its inspiration from the original Dodie Smith novel instead of the popular Disney films that were adapted from the same source. B. T. McNicholl (Billy Elliott, Spamalot) has written the book, and co-founder of the legendary rock band STYX Dennis DeYoung (Jefferson Award winner for The Hunchback of Notre Dame) has written the music. McNicholl and DeYoung co-wrote the lyrics. Choreographer is Warren Carlyle (Finian's Rainbow, A Tale of Two Cities).
The challenge in staging a musical based on the classic children's novel is representing the story from the dog's point of view. Smith gave voice to her spotted creatures and made them seem more human than the humans in her tale. In her book, the dogs were the "owners" and the humans were the "pets." The canine adventures were paramount, and the relentless efforts of Dalmatians Pongo and Missus to rescue their 15 puppies from the evil clutches of the ruthless Cruella De Vil gave the story its heart and soul.
To stay true to this topsy-turvy perspective, The 101 Dalmatians Musical has put all of the human characters on 15-inch stilts, making them seem larger than life to the dog characters on stage. This allows the adults and children who play the dogs and puppies to walk upright and still be smaller than Cruella, her henchman, the Dearlys and the nannies. In addition, there are 15 real Dalmatians, most of them rescued from shelters, which make grand appearances at the end of each act.
Is the stilt work cause for trepidation among the cast members? According to Maguire, who plays the quirky but doting Nanny Cook, it's now just another skill to add to her resume.
Erin Maguire: I'm a stilt champion now! (Laughs) Famous last words, right? I'm knocking on wood. But actually they just feel like an extension of your leg, which is deceptive because you get so comfortable in them that you think that you can function in them like they're your regular feet. And you really can't. You need to be aware. Your stride needs to be different. It needs to be longer. But I can feel when things are off in them and I can fix them right away.
It's funny. Every time I do a new show, I'm always doing some sort of weird stunt. I could be doing The Cherry Orchard and they'd have me tap dancing on a beach ball while spinning plates and balancing something on my head. So this is just one in a long line of cool stunts that I've gotten to learn like stage flying or animatronic puppetry.
And I feel like I could run a marathon in them. I wouldn't want to try, but I feel like I could.
BroadwayWorld.com: How cool is it for you to be hitting Boston at Christmas?
EM: You have no idea. I mean aside from the mere fact that I'm going to be with my family for Christmas – and I'm employed – those things are always well and good. But I grew up going to see shows at the Wang on Christmas night with my mother. It was such a sentimental thing. She would get me tickets and give them to me Christmas Eve and then we would do our Christmas day family festivities and leave and go into Boston for Christmas night. We'd see whatever big show was touring through town. Well, now I'm the show that's going to be playing!
I know it's going to be overwhelming. I'm anticipating crying as soon as I get on the stage of the Wang.
BWW: Would that be in character?
EM: Ab-so-lute-ly. I would make it work. My training and my BFA, after all.
BWW: So you cut your teeth pretty much at Arlington High. Or do you go back even further to elementary school?
EM: The first show I ever did was with Fidelity House in the center of Arlington in a church basement. Up until that point I had just been a dorky kid who sang in her room. And then I saw an audition they were having and I went. I sang something from Annie and I remember seeing the reaction of people in the room. I was like, "Oh wait, I can do this?" So I became obsessed with singing and did the show there.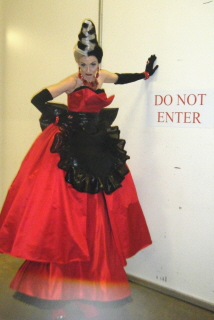 I did the FiHo Players Tribute to Broadway in the sixth grade. The videotape still exists somewhere, God help me.
Then I did some plays in junior high but really jumped in feet first when I was in high school. Frank Roberts (a director with the Reagle Players in Waltham) was my teacher and mentor. He saw that I was so passionate about it, so committed to it, that he brought me over to Waltham. While I was rehearsing for whatever the school musicals were I would also go and rehearse for Reagle Players. And you know they job in Broadway stars, which I just think is so ironic because Rachel (York) was just there this past summer and she was the Broadway star they jobbed in. When I was in high school I was nothing but enamored with those people who came through. I would just watch and absorb what they were doing. I haven't been back to Waltham since but I would love to – to go back to the Reagle Players and be one of those Broadway people.
But for now it's just a huge thing for me to be able to come back to Boston with a show, and most specifically a big Broadway touring show. There are so many plusses to what I'm doing right now. I'm performing a role that I've created from scratch and I've put my own personal stamp on it. It's also absolutely amazing that I'm understudying Cruella. And if I get to go on while I'm in Boston, glorious day! (Laughs)
But seriously, I would rather my family see the character I've built. It's something that Jerry Zaks saw at the audition in me and let me have carte blanche in creating. It's such a great featured role. I have a fabulous number with Rachel and we have a blast working together. She's really phenomenal in this show and it's amazing to keep learning from her.
BWW: So describe your Nanny Cook for me.
EM: She's doting, and high pitched, very quirky. The person that I based her on originally in the audition was Daphne from the TV show Frasier. That was the basic vocal approach I took. She's sort of bumbling. The dogs get stolen on her watch and she's an absolute wreck about that.
BWW: That's the number "Hail to the Chef" that you do with Cruella.
EM: Yes. And I love singing that with Rachel every night. There's not a night that goes by that we don't go completely bonkers. Building that number together was an amazing experience.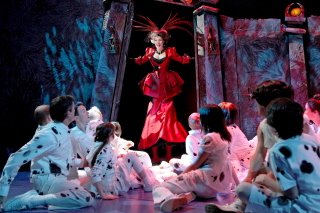 Rachel is a consummate professional. I've known about her, I've heard about her, I've seen her in shows. So to be able to work with her is such a coup. We get along very well, and we work off of each other's comic styles very well. It's been a privilege. It's also been a privilege to watch her work and to create her role.
BWW: So in your opinion, is Cruella evil or just misunderstood?
EM: I think she is evil but believes she is misunderstood. Her hard wiring is clearly different from that of the average Joe. She is motivated by greed, power and money, but feels completely justified in her actions.
BWW: As an understudy you've got to keep your own role and the role of Cruella up to speed. I know you did go on for Rachel once already pretty early in the run. What was that like?
EM: That was wild because the show opened in Minneapolis, and Appleton was the next stop. The week that we opened they were still changing things every day so we were still in rehearsal during the day while performing at night. So when we got to Appleton the only time that we had to rehearse was to do a sound check and suddenly we're in the show. And then the next day Rachel was out. So I didn't have a rehearsal. I had a put-in rehearsal and suddenly I'm on stage with all of her costume pieces, the hair, wigs, everything. Usually you'll have understudy rehearsals during the course of the run to get a feel for what it is like to walk in somebody else's shoes.
BWW: Or stilts in this case.
EM: Yes, stilts. Fifteen inches in the air! It was phenomenal and exhausting and chaotic and I've never been so calm. (Laughs) Because, you know what, I've been there before. I'm a very good kamikaze understudy! When I was doing the national tour of Seussical with Cathy Rigby she went out opening week. She hurt her back during rehearsal and I had two hours notice. It was like, "Bam, you're on." And I had to fly in that show! I had never flown onstage, and I didn't have costumes yet so they put Cathy Rigby's costumes on me. Do you have any idea? She's 4'10" and I'm 5'7". It was hilarious. Ever since that point nothing phases me. No-thing.
I knew about Appleton in advance but it was still sort of an out-of-body experience going on for Rachel that night. The strangest part was to be on the opposite side of "Hail to the Chef." You're so used to singing your own harmonies and it's a really specific number. Things are placed in a certain way, so to be the person doing the opposite action was truly out-of-body. And it went so…shockingly…well. I was like, "If I'm going to crap out on anything in this show tonight it's going to be this song." But it was one of the best numbers! It was so great. The next day I felt like I got hit by a truck but it was a blast.
BWW: I understand that you're still reworking the show.
EM: We're here in Dallas and Jerry and the whole creative team just came back last week and tweaked it some more and made some more nips and tucks. They're adding real live dogs to more parts of the show, as well.
BWW: That's been unanimous feedback from critics and from people on Ticketmaster and Facebook. They want more dogs.
EM: Well, it's tricky with the scenes that we've already established with humans playing the dogs. You don't want a dramaturgical mishmash. The real dogs' big moment comes at the very end of the show when they get to remake Hell Hall and do all of their tricks. But they're trying to place the dogs in various spots throughout the show in little cameos, sort of as teasers. Jerry still considers us in previews, so he's still working to hone it and refine it and tell the story more effectively.
BWW: Some of the audience members have commented about the "adult" humor in the show. And some of that centers on your character Nanny Cook and Nanny Butler. Now, I don't want to give away the joke…
EM: Well, let's just say that it's going fly in certain cities and in others it's going to tank.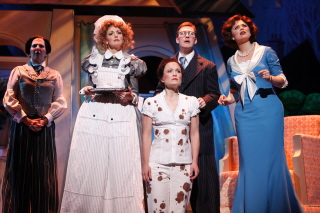 But it's such a crap shoot. Like, in Austin, Texas, people could not get enough of those jokes. But in Detroit I thought I was going to be lynched. It's an interesting choice, but even in the movies it's there on a very, very small level. It's just hilarious to me. And the way they've physically designed it, Nanny Butler looks like Dudley Moore in Arthur. And I'm all frou-frou cute like Bernadette Peters. I think in New York it's going to go over really well. And I think maybe even in Boston. They're conservative but savvy.
BWW: Do you have a sense – are you getting adults coming without kids in tow or is it pretty much just families?
EM: It's actually a nice cross section, I think. Sometimes the solo adults who are there are friends of ours or family members. But we're part of a subscriber series so we're going to get a cross breed of people. The show is really geared for the kids, but you've got to have something in there for the adults to laugh at that's going to go right over the kids' heads.
BWW: Has the fact that this is not Disney been an issue for people expecting the Disney version?
EM: Occasionally. They're a little bit disappointed that they don't hear the standard song, "Cruella De Vil, Cruella De Vil." But people are quick to realize even though it's not Disney, it's equally entertaining. There's only so much leverage you can get out of a short animated piece. By going back to the source there's more juice to be found. And the music by Dennis DeYoung is so catchy. He encompasses so many different genres of music that there's something for everybody in there. There's a vaudeville number but then there are these rock powerhouse ballads that Cruella gets to sing. The number she and I do together is very traditional musical theater. So it runs the gamut. There's too much material in there for people not to come out humming something, loving something, and sort of leaving that Disney idea at the door.
BWW: I heard that there are plans for a cast recording. Is that going to be happening?
EM: We're in hold right now because I think they are still making some changes to the show. Lyrical changes and such. So I think when the dust settles we'll get to do it. I hope so. I would love to check another goal off my list.
BWW: So how many people are going to be in the audience here in Boston for you on opening night? Are you going to have a cheering section?
EM: Oh, my God. We've got busloads of people coming! (Laughs) A lot of my family's coming right after Christmas. I have friends coming to the performances leading up to it. I'm going to see people there that I haven't seen for years. Someone from my elementary school found me on Facebook and told me she's coming to the show. I haven't seen her since sixth grade! There are going to be people coming out of the woodwork. I'm going to have somebody there every day. I'm going to have to do backstage tours - and I'm going to live for every moment of this! I can't wait.
Tickets for The 101 Dalmatians Musical in Boston are available on line at www.citicenter.org or by calling 866-348-9738. Performances for this special holiday schedule are Wednesday, December 23 at 1 and 7:30 p.m.; Thursday, December 24 at 1 p.m.; Saturday, December 26 at 2 p.m. and 7:30 p.m.; and Sunday, December 27 at 1 and 6:30 p.m. There are no performances Christmas Day.
For more information, visit www.the101dalmatiansmusical.com.
PHOTOS: Erin Maguire; Erin Maguire as Cruella De Vil
PRODUCTION PHOTOS BY JOAN MARCUS: Rachel York as Cruella De Vil and company; Madeleine Doherty as Nanny Butler, Erin Maguire as Nanny Cook, Julie Foldesi as Perdita, Mike Masters as Mr. Dearly, and Kristen Beth Williams as Mrs. Dearly