Avenue Q: It's an Impudent Day in the Neighborhood
Return engagement of the national tour of the smash hit "Avenue Q" is as sweet, sassy, and sensational as ever, bringing its adult-themed spin on puppets and children's shows back to Boston for one week only
Puppets and porn may be strange bedfellows, but in the delightfully irreverent Tony Award-winning musical Avenue Q, now at Boston's Colonial Theatre for one week through November 22, this naughtily clever clash of childhood and the terrible twenties comes across as a perfect match. It's the raucous intersection of Sesame Street and Hell's Kitchen, where Gary Coleman is Mr. Rogers and the neighborhood bullies are the Bad Idea Bears.
In this deliciously saucy tale of sweet but as yet unsuccessful misfits, the newest arrival to Avenue Q is Princeton, a fresh-faced college grad searching for a job, a purpose, and perhaps a girlfriend.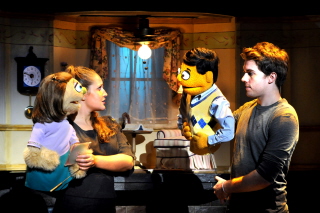 He is welcomed by Kate Monster, the lovelorn assistant kindergarten teacher longing to open her own school. Neighbors Nicky, a well-meaning slacker, and Rod, an uptight Republican investment banker, share an apartment and a secret that is as obvious to everyone as the 1940s musicals that Rod adores. Trekkie is a grouch of a Monster who seldom leaves his apartment because he's addicted to internet porn. Human neighbors are Brian, an unemployed comic, and Christmas Eve, a Japanese-born social worker with no clients but two much touted advanced degrees. As a couple they somehow manage to keep love alive despite their very different levels of ambition.
In this NYC low-rent district where the local bar's main attraction is a lounge singer named Lucy T. Slut, puppets and people learn life's difficult lessons as if they were residents on some kind of perversely funny children's TV show. Whimsical instructional songs like "Everyone's a Little Bit Racist" and "The More You Ruv Someone" mix infectious simple-sounding melodies with cynical or sexually charged lyrics. Television screens drop down at opportune moments to teach hilariously twisted meanings to serious words like purpose and commitment. Bawdiness co-exists comfortably with innocence, tantalizing and charming at the same time. One minute R-rated puppet love causes howls of laughter during "You Can Be as Loud as the Hell You Want" and the next minute the yearning, dream-like "Fantasies Come True" elicits sighs and moistens the eyes.
The actor/puppeteers are uniformly skilled and disarming doing double and sometimes triple duty animating their sewn together selves while singing in cartoon-like styles.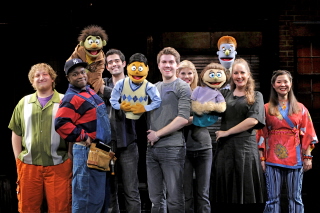 They alternate between multiple characters rapidly, often within the same scene, effectively giving voice and life to their puppets while conveying quicksilver human emotions of their own. After a while it becomes hard to know where the person ends and the terry cloth facsimile begins. Puppets and personalities are that well defined.
Especially affecting are Brent Michael DiRoma as Princeton/Rod and Jacqueline Grabois as Kate Monster/Lucy. DiRoma switches effortlessly between the impatient young dreamer that is Princeton and the lonely nervous wreck that is Rod. Grabois, whose heart is worn palpably on her sleeve as Kate but somewhere more closely to her cleavage as Lucy, delivers two of the best "straight" numbers in the show. As Kate she conveys all the bitter sadness of one who is jilted in "A Fine, Fine Line" while as Lucy she turns the tables and vamps jazzily during "Special." Her slouched posture and lack of confidence as the Monster contrast sharply with the erect shoulders and swiveling hips of the wanton beauty.
Jason Heymann is alternately endearing, gruff, and devilish as Nicky, Trekkie Monster, and the instigating Bad Idea Bear. Ensemble member Keri Brackin shows her versatility as the second Bear, Trekkie's demonstrative right arm,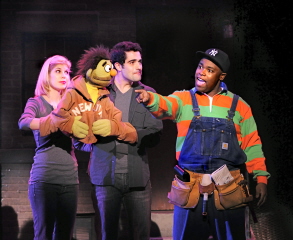 and "stand-in" for either Lucy or Kate whenever both are on stage. Tim Kornblum is a lovable lug as the not-at-all-hard-working Brian, and Lisa Helmi Johanson is alternately sweet and shrewish as the too helpful therapist Christmas Eve.
As former child star Gary Coleman, Nigel Jamaal Clark finds the sharp-tongued wit and hard-won wisdom of someone who has fallen publicly from grace. He lends a knowing calm to the insecure tenants around him, guiding them to accept the fact that their problems are only "For Now."
Avenue Q is a deceptively touching musical about life, love and humanity packaged in a hilarious adult homage to children's television. The overall effect may seem deliberately simple, but behind the scenes cast and crew are operating on all cylinders. Hard work and split-second timing make a visit to this neighborhood a beautiful experience. Won't you be their friends?
PHOTOS BY JOHN DAUGHTRY: Kate Monster/Jacqueline Grabois and Princeton/Brent Michael DiRoma; the cast of Avenue Q: Tim Kornblum as Brian, Nigel Jamaal Clark as Gary Coleman, Nicky/Jason Heymann, Princeton/Brent Michael DiRoma, Keri Brackin, Kate Moster/Jacqueline Grabois, Rod (in back), and Lisa Helmi Johanson as Christmas Eve; Keri Brackin/Nicky/Jason Heymann and Nigel Jamaal Clark