Christmas Cheer through a Child's Wide Eyes
Boston Playwrights' Theatre and Boston Children's Theatre collaborate to stage a funny and heart-warming new adaption of the Dylan Thomas classic.
Christmas always looks brightest when seen through the eyes of a child. This year the Boston Playwrights' Theatre and the Boston Children's Theatre (BCT) have joined together to give us a glimpse into one adorable child's holiday memory by presenting a splendid adaptation of Dylan Thomas' classic poem, A Child's Christmas in Wales.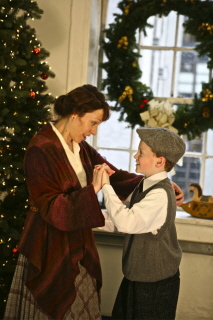 Written and directed by BCT Executive Artistic Director Burgess Clark, this charming, funny, and heart-warming play creates a tender back story to Thomas' colorful reminiscence that brings a host of quirky relatives and neighbors richly to life. The tale may be set in a Welsh seaside village in 1923, but it speaks to anyone who has ever found joy in making snow angels or been doted on by a favorite aunt.
Stephen Libby plays the adult Dylan Thomas who narrates the tale of his younger self. His eyes sparkle with love and good humor as he fondly remembers the uncles who smoke cigars and loosen their belts after a satisfying Christmas dinner, the aunts who add liberal amounts of rum to their tea on this one special day of the year, and the evening carols that lull him to sleep as families throughout the neighborhood gather at spinets to make their own special music. Adam Freeman plays the younger Dylan, a wide-eyed, mischievous observer who's both amused and bemused by the antics of the frazzled adults around him. He looks uncannily like his older counterpart, and he conveys just the right touch of precocious curiosity to make his journey from innocent prankster to insightful writer touching and completely believable.
As Libby narrates, borrowing from Thomas' original poem, Freeman and the rest of the cast enact Clark's cleverly constructed and universally recognizable scenes. Mother and Father (Margaret Ann Brady and Steven Gagliastro) do comic battle over where to put the Christmas tree. Mrs. Prothero's (Anne Gardiner) burning of the Christmas dinner becomes a tumultuous vaudeville of harried firemen called into service by a hapless husband (Robert D. Murphy). The parade of useless presents culminates in a hilarious bit of business as Father takes out his mounting frustrations on a particularly useless celluloid duck.
Performances across the board are a delightful mix of down-to-earth understatement and gentle dottiness. Gagliastro barely conceals his Father's tender heart beneath his working man's cap, which he peevishly refuses to remove.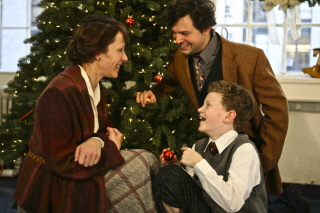 Brady chides and flutters as the steadfast Mother, but in the end her enduring warmth and good nature are as soothing as a smothering hug. Meagan Hawkes as Dylan's devoted aunt Dosie is a shimmering presence, quiet, introverted, but ever watchful. Her scenes with both adoring Dylans glow with deep affection. It is this special relationship – the one that is unencumbered by discipline, parental pressures, or the practical necessities of the day – that is at the heart of this Child's Christmas in Wales.
Clark's wry script and seamless direction bring to life all of Thomas' wistful narration. The sights, sounds, smells, and family dynamics that make Christmases memorable for all are vibrantly on display. Anthony Phelps' detailed, multi-leveled set puts the characters squarely at home on the weathered Welsh coast. His wood-trimmed walls and wide plank floors suggest sturdy hard won comfort while the imposing bay window overlooking the windswept sea almost brings the winter chill inside. Likewise Rachel Padula Shufelt's slightly worn costumes evoke both the period and the climate. Threadbare tweeds, woolen winter accessories, and unassuming holiday finery imply modest means but rich appreciation for enjoying simple pleasures.
A Child's Christmas in Wales is a delightful addition to Boston's traditional holiday landscape. This particular adaptation by Burgess Clark is an especially entertaining package.
PHOTOS COURTESY OF BOSTON CHILDREN'S THEATRE: Meagan Hawkes as Aunt Dosie and Adam Freeman as Young Dylan Thomas; Meagan Hawkes, Jacob Strautmann as Dylan Thomas, and Adam Freeman