In and Around Boston: Rainbows, Recluses and Romance
The Boston area offers an interesting assortment this weekend as local favorite Kathy St. George takes to the Stoneham Theatre stage in the guise of the legendary Judy Garland (June 4-28), while two excellent productions – "Grey Gardens" at the Lyric Stage and "Romance" at the American Repertory Theatre – end their limited runs on Sunday.
"Dear Miss Garland"

According to press notes, Kathy St. George fell in love with Judy Garland as a child watching The Wizard of Oz. She has had a fascination with her ever since.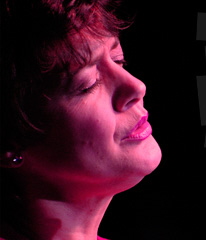 Her one-woman musical Dear Miss Garland, receiving its world premiere at the Stoneham Theatre this month, is St. George's "love letter" to the iconic star. The show includes both poignant and hilarious stories from Garland's life and career as well as the songs that she made famous in movies and on the concert stage.
St. George – who at four foot eleven is the exact same height as Garland – traces the incomparable singer's life from her stage debut as one of the Gumm Sisters to her comeback concert at Carnegie Hall in 1961. Between anecdotes she sings such classic hits as "The Trolley Song," "A Star Is Born," "You Made Me Love You," "Get Happy," "Chicago," and the all-time favorite, "Somewhere over the Rainbow." A performer who has been "doing Judy" by request at cabaret shows and benefits for several years, St. George decided to pay a worthy tribute to her role model in a fully scripted and produced musical complete with sets, lights, choreography, costumes, and a seven-piece band.
Tickets for Dear Miss Garland may be purchased at the Stoneham Theatre box office by calling 781-279-2200 or visiting http://www.stonehamtheatre.org/. Price is $40, with discounts available for students and seniors.
PHOTO: Kathy St. George as Judy Garland
"Grey Gardens"
Local stage stalwart Leigh Barrett is giving yet another finely etched performance – two of them, actually – in the Doug Wright, Scott Frankel and Michael Korie musical Grey Gardens now playing its final week at the Lyric Stage in Boston.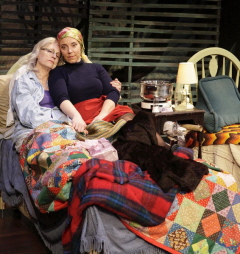 Based on the stranger-than-fiction story of two of Jacqueline Kennedy Onassis' eccentric relatives – Edith Bouvier Beale and her daughter "Little" Edie Beale – Grey Gardens depicts this decidedly odd couple's descent from 1940s East Hampton society to a life of destitution, isolation and inconceivable squalor as they share a dilapidated summer mansion with dozens of cats, raccoons, fleas, and their own twisted memories.
In Act I, Barrett plays mother Big Edie Beale, the frustrated wife of a never-home Wall Street tycoon who tries at every turn to stifle her passion for music and her bohemian ways. Self-absorbed to the point of narcissism, Big Edie wants nothing more than to sing on the stage. Unable to fulfill her career dream, she seizes any social opportunity to take the spotlight – even if it means ruining her own daughter's (Aimee Doherty) engagement party. When faced with the very real possibility of being left alone following Little Edie's planned wedding to Joe Kennedy Jr., Big Edie sabotages her daughter's future and seals their dysfunctional, co-dependent fate. In Act II, we see the mind-boggling result of their 32-year retreat from the outside world.
Amidst broken plumbing, collapsed ceilings and walls, feline fecal filth, and years of uncollected trash, the elderly Big Edie – now played by Sarah deLima – and the middle aged Little Edie – Barrett once again – live in some kind of bizarre, delusional denial. They have a vague awareness that their situation is not the norm, but their obsessive reliving – and reinventing – the events of the past prevent them from seeing how truly desperate their conditions are. Their sense of self-importance lives on, even if their faded celebrity does not.
Barrett, Doherty and deLima all bring beautiful voices to Grey Gardens' evocative score. Doherty's tragic, almost schizophrenic "The Telegram," Barrett's comical "The Revolutionary Costume for Today," as well as her mournful "Around the World" and "Another Winter in a Summer Town," are but a few of the many musical highlights.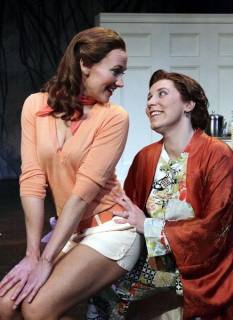 The women also nail the duo's idiosyncratic speech patterns, contorted postures, and nervous mannerisms that are so evident in the famous Maysles brothers' 1975 documentary of the same name. But while Barrett is both goofy and heartbreaking and deLima is alternately strident and sorrowful, it is Doherty who is the real revelation in this production. She is the one who as the neurotic young Little Edie lays the subtle psychological groundwork that enables the older Barrett to morph into the adult Little Edie who is unable to leave her mother no matter how hard she tries. Doherty's is a performance of desperate hopes and smashed dreams. It is riveting in every detail.
Director Spiro Veloudos has guided his trio of leading ladies to be thoroughly believable as eerily similar mother and daughter (and mother and daughter). As one of the songs in the show is titled, the three are like "Two Peas in a Pod." Veloudos has also led his well-cast ensemble – which includes a fine Will McGarrahan as Big Edie's sullen live-in accompanist Gould and a versatile R. Patrick Ryan who appears first as the preppy Joe Kennedy Jr. then as the kindly high school student-handyman Jerry who befriends the recluses – to be both real and ethereal when the situations warrant. Music director Jonathan Goldberg has made his seven-piece orchestra sound much bigger, delivering composer Frankel's moody dissonances, 1940s pastiches, and 1970s ballads with haunting personality. Costume designer Charles Schoonmaker has also splendidly captured the elegance of the Beale's earlier days as well as the oddness of their later years – although second act fabrics could show a bit more wear and tear and a few soil spots given the squalid conditions in which his characters are living.
Only the set by Cristina Todesco disappoints, primarily due to the very small space with which she has to work. I suppose if I hadn't seen the original Broadway production, I wouldn't know what I was missing. But in New York the set created as much of an impact as the performances, stunning the audience when it transformed from a grandly appointed, summer breeze-swept, pristine ivory-painted mansion into a looming mountain of waste and decay, crawling with images of meowing cats projected onto mildew stained and collapsing walls.
At the Lyric, rough-hewn slats suspended above and behind the playing area suggest the hidden lath work that becomes exposed over time. In Act II just a few small piles of assorted trash make do for the years of newspapers and cat food cans that in fact littered the floors and halls of the withered estate. But without a sense of the enormity of the squalor, the shocking oppressiveness that makes the Beales sympathetic as well as curious is missing. The Beales' incessant bickering thus becomes a tad too irritating when not played out against a monstrously claustrophobic visual context.
It is to the credit of deLima, and Barrett especially, that their Edith and Edie remain fascinating characters despite the disquieting nature of Grey Gardens. Their and Doherty's remarkably true performances put a bright sheen on this most unusual subject matter.
Tickets to Grey Gardens are available at the Lyric Stage box office by calling 617-585-5678 or on line at http://www.lyricstage.com/.
PHOTOS BY MARK S. HOWARD: Sarah deLima as Big Edie Beale, Leigh Barrett as Little Edie Beale; Aimee Doherty as Little Edie Beale, Leigh Barrett as Big Edie Beale
"Romance"
Can chiropractic save the world?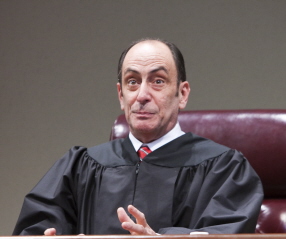 This is the absurd question posed in David Mamet's preposterously funny legal farce Romance now in its final week at the American Repertory Theater (ART) in Cambridge. As a Middle East Peace Conference convenes in Washington DC, a Jewish chiropractor (Remo Airaldi) and his anti-Semitic fundamentalist Christian defense attorney (Jim True-Frost) stumble upon the notion that – after attacking each other with scathing epithets in a capital courtroom – a simple realignment of the warring leaders' spines should be able to restore their inner harmony and bring about lasting peace.
Wouldn't it be great if that were true!
Instead the madcap denizens of Mamet's bizarre juror-free courtroom can barely keep themselves from killing each other as they duke it out over religion, homosexuality, infidelity, and the medical profession. "How can you have peace in the Middle East if you can't have peace at home?" a spurned lover cries. Indeed. That one small voice of reason amidst all the ridiculous mayhem seems to be the point lurking beneath the side-splitting laughs.
Ace performances are turned in by every member of the ensemble, executing Scott Zigler's inspired direction with crack comic timing and grand exaggerated style. But the prize for creating the most flat-out hilarious robed (and at times disrobed)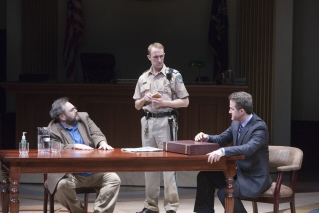 buffoon ever to preside over a court of law goes hands down to the magnificent Will LeBow. Vacillating between narcolepsy and drug induced manic psychosis, the allergy-suffering, pill-popping magistrate bounces absent-mindedly from speculating on the difference between a chiropractor and a chiropodist to trying to decide whether or not Shakespeare was a Jew. When his until-now silent bailiff (Jim Senti) deadpans, "I know Shakespeare was a fag," LeBow's bewildered double take is pure genius.

A seemingly extraneous subplot that ends up reinserting itself into the frenzy amusingly toward the end of Romance is one involving the love affair between the prosecutor (Thomas Derrah) and Bernard (Carl Foreman), affectionately known as Bunny. At one point the judge intercepts a note written to the prosecutor, which happens to be signed, "Bunny." LeBow, confused and irritated from the effects of his antihistamine overdose, shouts in frustration, "Rabbits can't write!"

Such is the humor that is rife in Romance. This is definitely not the David Mamet of Glengarry Glen Ross or American Buffalo!

Romance continues at the ART in Cambridge through June 7. Tickets are available by calling 617-547-8300 or on line at www.americanrepertorytheater.org.

PHOTOS BY MICHAEL LUTCH: Will LeBow as the Judge; Remo Airaldi as the Defendant, Jim Senti as the Bailiff and Jim True-Frost as the Defense Attorney