"Jerry Springer" Reveres God of Trash Talk
The sad exploitation of people in desperate search of celebrity is hilariously but also cleverly skewered in SpeakEasy Stage's controversial season-ending shocker that gilds our basest behaviors with operatic grandeur.
It's difficult to comprehend why anyone would parade his or her dirty laundry out onto an internationally syndicated talk show just to achieve that elusive 15 minutes of fame. But television's Jerry Springer has amassed a fortune exploiting people's desperate desires for notoriety,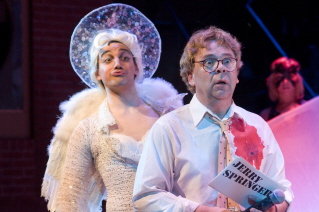 and vulnerable men and women to this day continue to confess to affairs, aberrations, and dirty little secrets that inevitably lead to on-air cat fights and profanity.
Jerry Springer: The Opera, currently getting a wild and wooly New England premiere at the SpeakEasy Stage in Boston, recreates and amplifies the crazy confrontations that the real Jerry Springer and his team of handlers and security guards orchestrate on a daily basis to the delight of voyeuristic audiences all over the world. Almost completely sung through, this highly controversial and irreverent Olivier Award-winning musical cuts to the heart of the sadness beneath the circus by transforming ludicrous trash talk into a grandly operatic lampoon. An odd-sounding mix, for sure, the contrasting sensibilities nevertheless work hilariously together to deliver surprisingly touching insights into what on the surface looks like simple celebrity-seeking madness.
Act I trots out all of the stock characters and situations that invariably incite Springer's audiences to cheer and jeer as if they were feeding gladiators to lions. But creators Stewart Lee and Richard Thomas add extreme twists that make the show's warring guests seem at once ridiculous and sympathetic.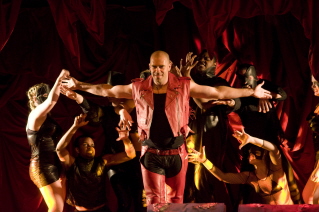 Cheating fiancées, crack whores, cross dressers, and fetishists cross paths with pole dancers, spankos, religious zealots and the KKK, all singing and dancing their confessions and suppressed desires in heightened chants and dramatic arias. Cast members play both the parody and the passion deliciously, spewing the crudest of epithets in exquisite operatic voice.
The second act comes as a complete surprise. Instead of spreading the joke too thin by giving us more of the same predictable on-air antics, Lee and Thomas turn Jerry Springer into a scathing morality play. Springer is literally sent to Hell to make restitution for all the lives he's ruined by using his Jerrycam to feed dysfunction instead of shed healing light on damaged relationships. His contentious audience Warm-Up Man (get it?) now becomes Satan, threatening Springer with a fate worse than death if he doesn't help him earn forgiveness – and a return to angelic status in Heaven – from a hapless, gospel-singing God. An effeminate baby Jesus, a defensive mother Mary, and a choir of combative angels all become Springer's other worldly "guests" as he attempts to unite the forces of Heaven and Hell through ersatz conflict resolution.
To read my complete review at BroadwayWorld.com, click here.
PHOTOS BY STRATTON McCRADY: Jared Troilo and Michael Fennimore; Timothy John Smith