In "Miracle at Naples," "F" Isn't for Funny
Huntington Theatre Company's world premiere of David Grimm's ribald sex comedy gets mired in ugly language despite game performances.
Playwright David Grimm apparently went to the George Carlin School of Comedy. Repeat the seven words that can't be said on television often enough and people might start to think they're funny.
Not.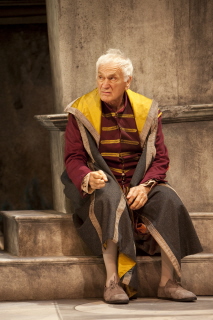 Grimm's new play, Miracle at Naples, receiving its world premiere at the Huntington Theatre Company's Wimberly stage at the Boston Center for the Arts now through May 9, is an offensive, boring, self-indulgent waste of perfectly talented actors, all stridently punctuating every other – no, make that every – sentence with crude swears and even cruder epithets. In an attempt to be oh, so smart and oh, so clever, Grimm substitutes crassness for wit, unsuccessfully cloaking his tasteless bathroom humor beneath the brazen mask of commedia dell'arte.
Set in Naples circa 1580, Miracle aspires to create a cockeyed comic tribute to our eternal search for love and companionship by crashing together the contradictions between sex and romance, cynicism and faith, cunning and innocence, and street theater and vaulted poetry. It's an interesting premise, revealing the simple goodness that lies in the middle ground between saints and sinners, but Grimm's non-stop barrage of unfunny juvenile slapstick leaves such an acrid taste in the mouth that it's impossible to savor the few sweet, redeeming moments that are available.
To read my complete review at BroadwayWorld.com, click here.
PHOTO of Dick Latessa by T. Craig Erickson