Stoneham Packs an Unsatisfying "Picnic"
Sincerity and sizzle are missing from Stoneham Theatre revival of William Inge's Pulitzer Prize-winning drama
When William Inge's Pulitzer Prize-winning drama Picnic first opened on Broadway in 1953, its searing treatment of women's repressed sexual desires unleashed by the appearance of a rugged, handsome drifter no doubt shocked post World War II Eisenhower era audiences.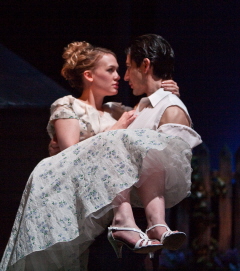 Today, this nostalgic piece of rustic Kansas Americana can seem melodramatic and hopelessly out of date if its themes of alienation, desperation, and unfulfilled dreams are not treated with poignancy and unselfconscious realism.
The recent Stoneham Theatre production, which ended its brief run on April 19, has the small-town look but not the wistful feel of Inge's bucolic, last-chance romance. The clapboard houses, neighboring back porches, weathered picket fence and modest homespun dresses effectively bring us back to a simpler place and time, but modern posturing and edgy mannerisms often create a barrier between the audience and the melancholy material. Not seeming to trust that the play's old-fashioned sentiments can still resonate in today's more sophisticated culture, director Caitlin Lowans has paced her production on fast forward. Bulldozing over the play's quieter, more contemplative moments, Lowans and her cast have done the exact opposite of what I'm sure they intended: they have made Picnic seem dusty instead of timeless.
To read my complete review at BroadwayWorld.com, click here.
PHOTO: Delilah Kistler and Aidan Kane