Stefanie Powers Drives Ogunquit's "Sunset Boulevard"
Stefanie Powers, starring at Maine's Ogunquit Playhouse as fictional silent screen legend Norma Desmond, ably navigates the twists and turns of Andrew Lloyd Webber's "Sunset Boulevard," a musical homage to Hollywood's film noir classic
The success of Andrew Lloyd Webber's sometimes brilliant but often ponderous musical Sunset Boulevard, adapted (almost slavishly) from Billy Wilder's classic film noir by Don Black and Christopher Hampton, rests squarely on the shoulders of the actress playing the faded silent screen star Norma Desmond.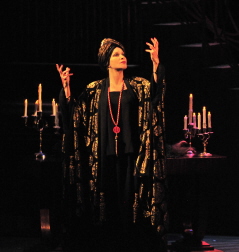 At Maine's Ogunquit Playhouse, where the nation's first fully staged regional production of this Tony Award-winning musical is now running through August 14, popular stage and television star Stefanie Powers handles her assignment with a balanced intensity that is both elegant and captivating. In a role that's often parodied or played for camp, Powers finds the truth and tragedy of this fictional forgotten soul who once was "the greatest star of all" but now cloisters herself in her crumbling mansion, an eccentric recluse clinging to memories of a glamorous past.
Powers' Desmond is more star essence than star bombast, and that works just fine in Ogunquits' intimate 500-seat playhouse. She seems to have internalized the lyric "with one look I can break your heart," because time and again she does just that. When she utters the iconic line, "I am big. It's the pictures that got small," it is with a nuanced mix of prickly defensiveness, mournful sadness, unabashed ego, and a hint of a once magnificent confidence that years of rejection and obscurity have transformed into achingly false bravado. Despite ample opportunities to do so, Powers never veers into exaggerated facial expressions or grandiose scenery chewing. Rather, she incorporates Norma Desmond the actress' dramatic silent screen mannerisms into Norma Desmond the woman's own personality, masking insecurities with artful flourishes and maintaining the last vestiges of control over her teetering world with grand displays of calculated artistic temperament.
The dark story of Sunset Boulevard unfolds when the jaded down-on-his luck screenwriter Joe Gillis (Todd Gearhart) pulls into a garage at Desmond's mansion while trying to escape two repo men in hot pursuit. Once Gillis hears that Desmond is writing a movie about the young temptress Salome – and that she intends to play the part herself – he contrives to work as her editor, seeing an opportunity to exploit a wealthy but vulnerable older woman whom he believes to be an easy mark. When she turns the tables and conspires with her devoted but mysterious servant Max (Sal Mistretta) to "keep" Gillis at her mansion, a dangerous relationship ensues. Gillis finds himself becoming more and more accustomed to the lifestyle Desmond's gifts and affections afford him while her delusions of a comeback – or as she calls it, a "return" – grow stronger with each new concession Gillis makes to her demands. When reality ultimately kills Gillis' hope of finding love with the innocent aspiring writer Betty (Christina Decicco) and disintegrates the last shreds of self-esteem the fragile Desmond possesses, Sunset Boulevard becomes littered with the corpses of broken dreams.
As Gillis, Gearhart has the thankless task of serving as both narrator and antagonist. Unfortunately what worked on film – having Gillis be his own wry commentator – fails on stage because the actor can't be a voiceover and a participant at the same time.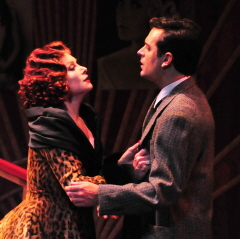 Gearhart does his best to alternate between cool detachment and increasingly tormented self loathing, but he never truly engages with his co-stars or mines the complex contradictions that drive him to destroy himself, his true love, and the woman he has grown simultaneously to admire and resent. Throughout much of the musical exposition with which he is encumbered, he substitutes energy for emotion, mechanically telling the tale rather than cynically deprecating his own tragic folly. In his big solo, "Sunset Boulevard," he misses the danger foreshadowed by his easy submission into the life of an amoral gigolo.
Gearhart redeems himself, however, in two wonderful scenes that culminate in beautifully written, moving duets. In the "New Year Tango" and "The Perfect Year," he and Powers perfectly tinge the fantasy of giddy romance with the irony of self-delusion. Later, when he and Betty (Decicco) pronounce they are "Too Much in Love to Care," he gets swept up in her idealism and exuberance, shedding his worries and rekindling his own forgotten dreams. When Gearhart is given the opportunity to settle into traditional book scenes and songs, he drops the forced mannerisms and truly shines. When saddled with clumsy dialog set to pretentious unmelodic music, he and Sunset Boulevard lose steam.
This particular musical is at once haunting and infuriating. It includes some of Lloyd Webber's most eloquent songs and themes, yet it also turns the briefest of movie scenes into ridiculous, momentum killing production numbers ("The Lady's Paying" and "A Little Suffering"). At times, lush soaring melodies evoke the glamour of the silver screen while resonant gothic underscoring builds suspense by suggesting macabre film noir. Then suddenly Sunset Boulevard yanks us out of the period and thrusts us into the world of '70s and '80s pop opera with songs like "Schwab's Drugstore" and "This Time Next Year." Both are anachronistic and derivative of Lloyd Webber's own Evita and Jesus Christ Superstar. Neither helps us understand the pain Joe Gillis experiences in leaving his contemporaries behind.
Quite the opposite is true for the magnificent "With One Look" and "As If We Never Said Goodbye." Here Lloyd Webber and company have actually improved on the film,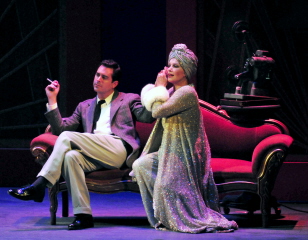 providing moving insights into Norma Desmond's character. With stirring melodies and exquisite lyrics, these songs reveal the touching vulnerability yet glorious past of a woman deified, used, and then destroyed by a Hollywood studio system that discards obsolete talent like crumpled old tissues.
Powers sings these, and all her songs, with tremendous intuition and pathos. In "With One Look" she seems to transport herself back in time, shedding for the moment her wariness borne of reclusiveness and reclaiming her position as the queen of silent films. Later, as she returns to Paramount Studios convinced that Cecil B. DeMille wants her to star in her own screenplay of Salome, she sends an electric current through the audience with "As If We Never Said Goodbye" – not by belting the song to the rafters but by revealing first her fear, then her memories, and finally a growing sense of confidence that culminates in gratitude and joy at having a purpose in life again.
Throughout her performance, in fact, Powers draws the audience into her world rather than imposing big emotions onto them. She seems to get younger and stronger as Gillis' attentions revitalize her, and she earns sympathy even while pushing her control over him to desperate and despicable extremes. Her ultimate collapse into madness once her hopes are crushed is riveting. At every turn, no matter how melodramatic the material becomes, Powers plays Desmond's truth, not her persona.
Gorgeous costumes by Anthony Powell from the original Broadway production only enhance the elegance that Powers projects. Todd Edward Ivins' art deco set design, however, struggles to convey the essential opulence of Desmond's mansion. Decorative silver-toned sliding panels effectively suggest Paramount's massive soundstage doors, but Ogunquit's small playing area often restricts action to the narrow swath in front of the proscenium. Clever black and white movie projections add a touch of fun to the exterior car sequences, and a custom built replica of Desmond's 1932 Isotta Fraschini convertible rolls on impressively, earning its own round of applause.
While Sunset Boulevard in and of itself is a show with multiple problems, it has moments of brilliance that are rendered beautifully by the star of this Ogunquit production. Who knows when there'll be another chance to see this seldom staged musical? See it for the unique experience. See it for Stefanie Powers' star turn.
"Sunset Boulevard" runs through August 14. Tickets are available online via the Ogunquit Playhouse website.
Photos courtesy of Ogunquit Playhouse: Stefanie Powers as Norma Desmond; Stefanie Powers and Todd Gearhart as Joe Gillis; Todd Gearhart and Stefanie Powers