NSMT Reopens with Lots of Fanfare but a Lackluster "Gypsy"
A miscast Vicki Lewis as Mama Rose and awkward staging in-the-round rob this mother of all musicals of its bite and brilliance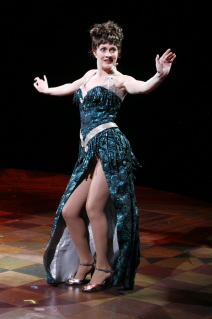 The new for-profit North Shore Music Theatre in Beverly, Mass., now owned by businessman Bill Hanney, gets an A for effort for breathing life back into a theater that was shuttered last season due to bankruptcy. However, a lot more energy needs to surge through this resurrected corpse if it is to reclaim its place as one of the premiere music theaters in America. Right now NSMT has a pulse, but it's a long way away from being alive and well.
Reports from opening night of Gypsy suggest that full houses have forgiven and forgotten the way the former leadership team handled their previous subscribers. Not so on a recent Thursday, when it seemed that no more than 25 percent of the seats in the spacious theater-in-the-round were filled. The subdued orchestra and sluggish pacing didn't help the new ownership's cause. A rousing Gypsy could have catapulted NSMT back to its former position of glory. Instead a plodding production with an uninspired performance by its star-billed lead has made this phoenix's rise from the ashes seem tentative at best.
Bloom Is Off This Rose

It may be fair to say that Mama Rose is the most challenging female lead in American musical theater.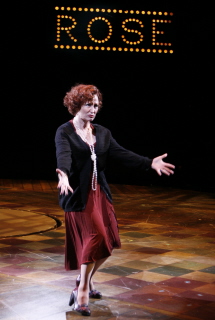 She's a ferociously overprotective stage mother on one hand and a deeply frustrated and stifled narcissist on the other. She would – and does – sacrifice everything to give her daughters June (later to become actress June Havoc) and Louise (later known as famed stripper Gypsy Rose Lee) a chance at stardom. But every one of her smothering gestures of love and encouragement is motivated by her own desire to seize the spotlight. Her drive is primal, her need to succeed equal parts delusion and desperation. She is the planet around which all other satellites in her life spin. She both attracts and repels people, most notably her daughters and their manager Herbie. She is a dreamer – and schemer – to a fault. She is an unrelenting force of nature.
As Rose, Vicki Lewis is none of these things. Instead of tapping into some seething inner cauldron of determination and discontent, Lewis offers up melodramatic gestures and empty posturing to suggest rather than inhabit this unfulfilled woman who was "born too soon and started too late." She has moments of authenticity when lashing out at her "ungrateful" daughters, but most of the time she is merely skimming the surface of this mother of all roles. Her singing voice, while very pleasant, is too smooth and legit sounding for this street tough survivor. She gives the eponymous "Rose's Turn" everything she's got, but it just isn't enough to send the requisite shockwaves of revelation through the theater.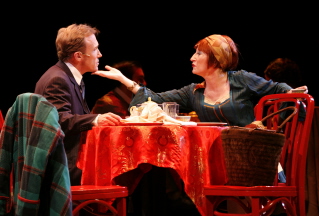 The supporting cast that surrounds Lewis is uniformly strong. Catherine Walker moves from meek to marvelous as the mousey Louise who later emerges as the world renowned Gypsy, queen of burlesque. Amanda Lea LaVergne as the talented baby sister June positively sparkles. As Herbie, the girls' salt of the earth manager and Rose's loyal love interest, Kirby Ward is both genuinely warm and slightly world weary. Jacqueline Piro Donovan, Laurie Gamache, and Jan Neuberger as aging strippers Mazeppa, Tessie Tura, and Electra are understated delights.
Without a fiercely powerful Rose at Gypsy's core, however, there is no fire to singe everyone else's wings. There is no tension to make scenes crackle or spark to elevate the pace. As a result there is a monotonous blandness to this production that makes for a rather long night.
The staging is also a detriment.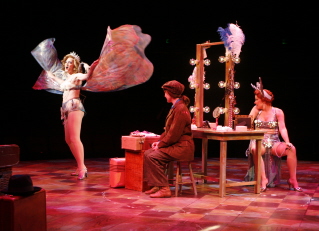 Numerous times cast members are obscured from view, either by other actors or by set pieces. At times the blocking is too static and all that can be seen are backs. At other times – most notably during "Rose's Turn" – movement is too frenetic. How can Lewis take the stage and command it if she's more concerned about equitable sight lines? If ever a show screamed for a proscenium arch it's Gypsy. If you are going to do it in the round, better find a way to preserve all its theatricality and dramatic potency.
Given the difficulties with Gypsy at NSMT, one can only wonder how well A Chorus Line will fare when it closes this inaugural season under Mr. Hanney. Will it be dance, ten, looks, three?
PHOTOS COURTESY OF NSMT: Catherine Walker as Louise/Gypsy Rose Lee; Vicki Lewis as Rose; Kirby Ward as Herbie with Vicki Lewis; Laurie Gamache as Tessie Tura, Catherine Walker, and Jan Neuberger as Electra