"August: Osage County" Ends Triumphant National Tour in Boston
It seems somehow apt that the first national tour of Tracy Letts' Tony Award and Pulitzer Prize winning Broadway triumph August: Osage County came to an end on Mother's Day at the Colonial Theatre in Boston.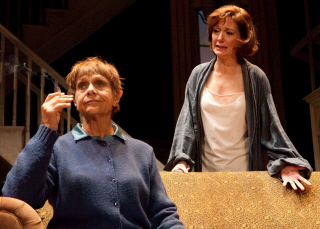 The play, after all, is its own twisted hallmark to the mother-daughter relationship. Elevating family dysfunction to simultaneously hilarious and scathing dramatic art, August wades knee deep in the rubble of three shattered generations, exposing the pained humanity buried in its midst without ever resorting to sentimentality.
The remarkable Estelle Parsons reprises her Broadway turn as the pill-popping, venom-spewing family matriarch Violet Weston and creates for this crackerjack road company a complex and volatile center around which they can spin. Parsons gives her Violet an indefatigable core that rails against the ravages of cancer, chemotherapy, brain damage, and a violent past. She refuses to succumb to her own frailties or family pressures. She asks no forgiveness, she offers no apologies. Yet she manages to lace her brute of a mother with indisputable logic, wry humor, a shuffling gait, and slurred speech, making her at once contemptible and sadly vulnerable. She is also very funny.
The wheels of this wildly theatrical family drama are set in motion when Violet's alcoholic and melancholy writer husband Beverly disappears without a word. This brings the extended family rallying to Violet's side, converging on her Oklahoma homestead with baggage – both literal and figurative – in hand. Eldest daughter Barbara, who escaped to Colorado choosing marriage and family over career, has a wandering husband and a rebellious, pot-smoking daughter. Youngest daughter Karen, who's gone from one bad relationship to the next, now lives in Florida in a "life-is-beautiful" haze, turning a blind eye to the fact that her "wonderful" fiancé Steve may be involved in more than one illicit activity. Ivy, the middle daughter, is the one who never got away. Living just a few doors down the road from her parents, she is the "good daughter" whose mousy appearance and failed marriage draw constant criticism from both her mother and her outspoken aunt, Mattie Fae.
The vigil for Beverly's return home becomes more and more volatile as the three-story house that Violet refuses to air condition swelters in the relentless heat of the plains. Nerves grow increasingly on edge and alcohol adds even more fuel to the already smoldering flames. Finally, in a tumultuous confrontation at the end of Act II, all that has been repressed explodes in a ball of white hot vapor, melting away the last shreds of inhibition and opening the door to the revelation of irreconcilable secrets and lies.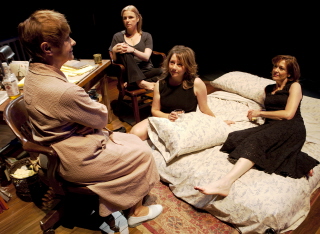 The entire cast, under the intrepid Tony Award-winning direction of Anna D. Shapiro, maneuvers seamlessly between the razor-sharp humor and the inevitable pointed tragedies that Letts intertwines brilliantly in this uncompromising look at damaged lives. Parsons is the domineering matriarch who rivets your attention, but Shannon Cochran as Barbara, Angelica Torn as Ivy, and Amy Warren as Karen are chips off the old neurotic block. Each lets her own tenuous hold on normalcy eventually dissolve into raw emotion, stripping away the unique defenses they have built for themselves to reveal the women they must now somehow try to be.
Jeff Still as Barbara's husband Bill is very effective as a man whose patience and loving support are finally exhausted, leaving him with nothing left to give. Laurence Lau as Karen's fiancé Steve is both charming and despicable – and just a touch creepy. Libby George as Violet's sister Mattie Fae is at first overbearing as she mercilessly insults her sensitive and simple son "Little" Charles, but her steely bravado later crumbles as her lifelong secret threatens her only child in a way that's unimaginable. As Mattie Fae's husband Charlie, Paul Vincent O'Connor demonstrates that he still has a spine despite years of being brow beaten. As Little Charles, Steve Key radiates a warmth and tenderness of heart that make him endearing despite his awkwardness and painful lack of self-confidence.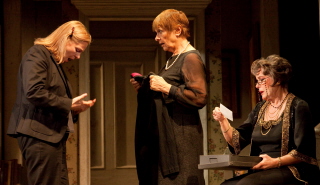 Youthful actresses Emily Kinney as Barbara's daughter Jean and DeLanna Studi as the Native American housekeeper Johnna Monevata hold their own in the large, experienced ensemble. Kinney captures the pained ambivalence and confusion of her frightened and acting-out teen while Studi shows her aspirations and complexities by containing them beneath her dutiful and practical demeanor. Jon DeVries as the patriarch and academician Beverly Weston grapples with tedium and despair in his opening scene with the newly hired Johnna, and Marcus Nelson brings a sympathetic touch to his Sheriff Deon Gilbeau.
August: Osage County is a riveting piece of American theater that doesn't flinch in the face of family dysfunction. Rather, it exposes through outrageously dark humor the unromanticized truth of collateral damage that is passed down from generation to generation. I doubt that we've seen the last of this prize-winning play. Here's hoping for a second national tour real soon.
PHOTOS BY JOAN MARCUS AND ROBERT J. SAFERSTEIN: Estelle Parsons as Violet Weston and Shannon Cochran as Barbara Fordham; the cast of August: Osage County; Estelle Parsons, Angelica Torn as Ivy Weston, Amy Warren as Karen Weston, and Shannon Cochran; Angelica Torn, Estelle Parsons, and Libby George as Mattie Fae Aiken