"Dreamgirls" Lacks Soul
The powerhouse vocal talent is there. The eye-popping costumes and scenery are there.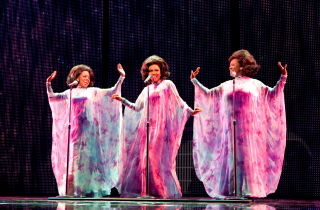 The fluid set changes and high-octane performances that keep the pace from sagging are there. So what's missing from this entertaining, and at times exhilarating, touring revival of Dreamgirls, shaking and baking the rafters at The Colonial Theatre in Boston till February 14?
In a word – soul.
Chronicling the unprecedented rise of the R&B girl group The Dreams (think Supremes) to the top of the pop charts from 1962 to 1975, Dreamgirls is as much about fighting for success as it is about the ideals that are lost in achieving it. This isn't a simple feel-good story about heretofore marginalized black artists "making it" in the world of mainstream pop music. Rather it's a gritty look at record industry graft, painful betrayals, personal sacrifices, and the distasteful compromises that are made in order to create what will eventually become known as the Motown Sound, a new, softer kind of Rhythm and Blues that will appeal to a wider, translate "whiter," audience.
At the center of this new era in crossover music is the ambitious car salesman turned promoter, Curtis Taylor, Jr. Smart, charming, persuasive, and ruthless, Taylor worms his way into becoming manager of The Dreams and sets sparks flying when he replaces Effie, the large framed and even larger voice lead singer, with Deena, the slender, gentler sounding back-up with a more marketable image. When Taylor replaces Effie with Deena in his bedroom as well as on stage, it's clear that his choice of woman has as much to do with his dream of success as it does his personal attraction.
For all the backstage drama and underhanded dealings that create a pulsating tension in Dreamgirls, however, this production somehow hides its dangerous dark side beneath a perpetually shiny veneer.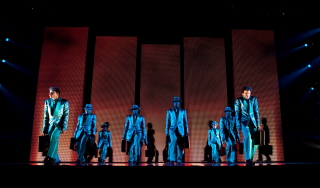 The glitz and glam of the megawatt onstage performances don't recede enough into murky shadows offstage when the cocaine is snorted or the payola exchanged. A key theme song for the men behind the Dreams may be "Steppin' to the Bad Side," but when the "I'm Too Sexy for My Shirt" staging and choreography look like they would be more comfortable on a fashion runway than onstage at the Apollo, the bad isn't bad enough.
The slick computer-generated digital projections that suggest larger-than-life television monitors and movie screens also create an anachronistic disconnect between the very suitable 1960s and 1970s wigs and wardrobe and the contemporary high-tech scenery. Granted the black metal mesh panels and inventive lighting design make for stunning visual effects and seamless scene changes, but the cleverness of the set often overwhelms the actors. There is a general lack of subtlety or nuance throughout the production. Too much of the design and direction seems self-indulgent. For example, a Busby Berkeley-style dance routine is so elaborate in its use of projections to mirror the pattern that the dancers are forming on the floor that it's hard to remember exactly what the point of the scene was in the first place. Instead of working in service to the story, much of the design and hyperkinetic choreography becomes the story.
Several fine performances are the saving grace that make this Dreamgirls thrilling, if not totally satisfying.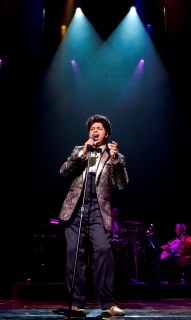 Chester Gregory as flamboyant R&B king James "Thunder" Early wears his anguish on his sleeve as he riles against assimilating into homogenized pop culture. When in his tour de force number "The Rap" he finally breaks free of his manufactured Johnny Mathis persona and lets his freak flag fly, he has all the energy, intensity, and sexual heat of the late great James Brown, the legendary "Godfather of Soul" that Early obviously represents.
Syesha Mercado as the elegant Deena Jones effectively conjures the spirit of another musical legend, Diana Ross. Blossoming from back-up singer into full-blown star when she takes over the lead spot from the less "sellable" but more talented Effie, Mercado's Deena evolves from shy teen to luminous celebrity. Her vocal inflections, warm smile, and fluid movement evoke the essence of her real-life counterpart without becoming parody. Whenever Mercado sings, Deena sparkles.
As the indefatigable Effie, newcomer Moya Angela is a powerhouse singer, making a very impressive debut. Given the thankless job of trying to banish memories of Broadway's original Effie Jennifer Holliday and the recent movie's inheritor Jennifer Hudson, Angela makes Effie her own, leaving absolutely nothing on the table when she delivers the iconic show-stopping number "And I Am Telling You I'm Not Going." While her acting in the scenes leading up to her big moment is a bit postured and shrill, making her less sympathetic than she needs to be, she redeems herself as soon as she starts to sing. With tears streaming down her face and heartbreak threatening to choke her every breath,
Angela harnesses a determination deep inside herself that rescues her Effie from the brink of collapse and then catapults her onto a level of awareness that makes her next number, "I Am Changing," a testament to her maturity and self acceptance.
Supporting players offer strong vocals and energy to burn in their production numbers. Adrienne Warren is a particularly fine Lorrell Robinson, the third Dream who grows from naïve back-up singer to Jimmy's bitter long-term mistress. Trevon Davis is a kind if nondescript C.C., a songwriter whose desire to rise along with the Dreams estranges him from his older sister Effie.
Chaz Lamar Shepherd as Curtis is the one major disappointment in Dreamgirls. He plays his canny manager too one dimensionally, making him a charmless villain instead of a man so hungry for success that he'd manipulate anything and everyone – even the women he claims to love – to get them and himself to the top. He's supposed to be "the best man" Effie's "ever known." There's no evidence of that in Shepherd's performance.
Despite the fact that this touring revival of Dreamgirls has put too many layers of polish on the surface and not enough layers of honest emotion underneath, it is nonetheless a welcome return of a ground-breaking piece of American musical theater. The cast is filled with talent and bursting with exuberance, and while the overall production doesn't necessarily make an impact beyond "one night only," there's enough soul-stirring music to make up for the lack of soul in Longbottom's direction.
PHOTOS BY JOAN MARCUS: Adrienne Warren as Lorrell, Syesha Mercado as Deena, and Moya Angela as Effie; male ensemble "Steppin' to the Bad Side;" Chester Gregory as Jimmy; Moya Angela