Imagination Reigns in "The Lion King"
National tour of long-running Broadway hit proves why director and designer Julie Taymor rules the jungle

The real stars of Disney Theatrical's The Lion King, in Boston at The Opera House through March 21, never actually appear onstage.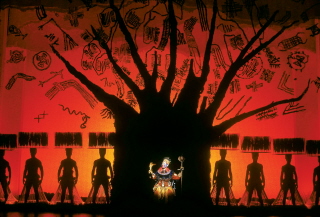 They do, however, infuse every inch of this live action adaptation of the animated children's classic with such glorious, spine-tingling spectacle that you almost forgive the clichéd book and bland pop score.
The credit for making The Lion King a Tony Award winner (and soon to be the eighth longest running show in Broadway history) goes to visionary director Julie Taymor and her magical design team. Additional accolades go to Mark Mancina, Hans Zimmer, Jay Rifkin and Lebo M for enhancing Elton John and Tim Rice's candy-coated children's score with haunting African rhythms and choral chants. The combination of epic visual landscapes and evocative musical underscoring has created a feast for the eyes and ears that has propelled The Lion King into legendary status.
The stunning "Circle of Life" opening sequence that depicts sunrise on the Serengeti sets an expectation for The Lion King that is difficult to sustain. Giraffes, elephants, gazelles, zebras, leopards, lions, hippos and wildebeests roam the anthropomorphized plains in front of a rippling crepe paper sun that sends shimmering waves of light through the dusty mists of dawn. Actors – ingeniously costumed and masked and manipulating life-sized puppets – embody all of the flora and fauna of the savanna. Representing thorn bushes, cacti, palms and umbrella trees, monkeys, rodents, crocodiles and ostrich, their movements are both balletic and powerful. The impact is unforgettable. Life courses through every blade of grass and grain of sand.
Then the story begins, and The Lion King sputters. Moments of true theatrical genius keep getting interrupted by stock characterizations,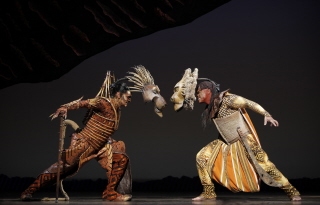 trite humor, and pedestrian musical numbers that may be fine for a theme park but are woefully out of place in the show's fictional African Pridelands. The biggest threat to The Lion King's exalted throne isn't the villainous Scar and his herd of cackling hyenas. It's the juvenile pandering that undermines the show's majestic possibilities at every turn.
A spiritual intensity enlivens The Lion King whenever Taymor and company's fantastic African sights and sounds take precedence. The penetrating drum beats and panoramic celestial images of "They Live in You" and "Endless Night" create a powerful connection between the young Simba's lesson about leadership at his father the King Mufasa's knee and the grown Simba's reawakening to the strength he has inside him. "Shadowland" and even the pop-tinged "Can You Feel the Love Tonight" fuse contemporary messages of courage and empowerment with insistent cadences that suggest universality and timelessness.
But for every compelling, eye-popping sequence like the climactic thundering stampede that kills Mufasa and forces Simba into a self-imposed exile, there are inconsequential and anachronistic little ditties like "The Morning Report" and "I Just Can't Wait to Be King."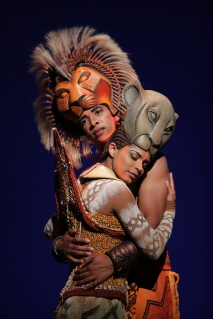 These songs, along with the lighter than air "Hakuna Matata" lifted straight from the movie, keep pulling The Lion King out of its heavenly orbit and returning it to the land of Disney.
The cast of this national touring production, featuring a mix of Broadway alums and Lion King newcomers, is competent but nondescript. Dionne Randolph as King Mufasa is a suitable mix of command and compassion, while Brent Harris as his n'er do well brother Scar is the very definition of effete evil. André Jackson as the conflicted Simba and Marja Harmon as the principled Nala make an attractive pair of heroes and lovers. Their younger selves – Elijah Johnson and Jamariana Tribble, alternating with Jerome Stephens, Jr. and Madai Monica Williams – are more energetic than eloquent. (Given the challenging acoustics of the Opera House, it was often difficult to hear what they were saying). As the put upon aide Zazu – first loyal to Mufasa then submissive to the usurper Scar – Tony Freeman is comically reminiscent of the late Roddy McDowell. Tyler Murree as Timon, the unencumbered meerkat, does his best Nathan Lane impersonation. Ben Lipitz as the flatulent wart hog Pumbaa conveys the sweet center beneath the scruffy hide. Andrea Jones, Omari Tau and Ben Roseberry are lightweight ghetto-talking street toughs as the ravenous and rabid hyenas.
The one standout in a cast of cookie cutter caricatures is South African native Phindile Mkhize as Rafiki. Serving as a visual narrator and spiritual guide, she is part playful baboon and part tribal shaman.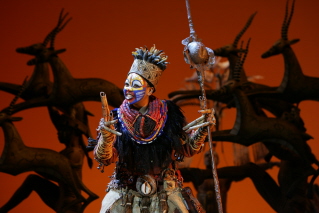 She imparts wisdom through African chants and clicks, all the while strutting and swaggering as if possessed of an indefatigable joy of life. Her reprise of "He Lives in You" is sung with all the force of a gospel hymn, and it is thrilling.
This national tour makes it very clear why Julie Taymor became the first woman in Broadway history to win a Tony Award as Best Director of a Musical. Her brilliant vision and spectacular staging make The Lion King a must see – at least once. For those who prefer more substantial music and storytelling to go along with their special effects, however, once may be quite enough.
PHOTOS BY JOAN MARCUS: The Tree of Life; Brent Harris as Scar and Dionne Randolph as Mufasa; André Jackson as Simba and Marja Harmon as Nala; Phindile Mkhize as Rafiki