Richard Kind and Liz Larsen: This Guy and Doll Got Chemistry
Broadway veterans Richard Kind and Liz Larsen bring delightful off-stage sizzle to their roles as the lovable Nathan Detroit and the lovelorn Miss Adelaide in the sparkling production of 'Guys and Dolls' now in its final week at the Ogunquit Playhouse in Ogunquit, Maine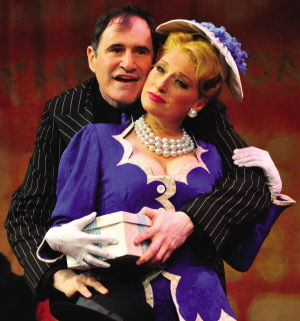 "Chemistry." The intangible ingredient that makes relationships sizzle. The magical word that gambler Sky Masterson uses when telling missionary Sarah Brown how he'll know when he's found the right doll.
It's also the perfect word to describe the crackling energy between Broadway pros Richard Kind and Liz Larsen as they light up Ogunquit Playhouse's sparkling production of Guys and Dolls now in its final week at the venerable Maine summer resort theater. Playing the lovable lug Nathan Detroit and his lovelorn fiancée Miss Adelaide, Kind and Larsen bounce off each other deliciously with the sort of irresistible irritation that only long-married couples typically display.
This dynamic duo's heat registers both onstage and off, as witnessed in a recent BroadwayWorld.com interview conducted at the theater on one of this summer's rare sunny afternoons. Seated side by side on the outdoor patio of the rustic playhouse's idyllic seacoast grounds, Kind and Larsen bicker playfully, interrupting each other's thoughts and finishing sentences as if they have known each other for years. In fact, the co-stars had never worked together prior to Guys and Dolls. According to Richard, however, they have always admired each other from afar.
"Yeah, right," Liz quips sarcastically. "Richard said, 'Oh, Liz, I saw you in 'Baby.' You were terrific.'
"Yeah, I was great, wasn't I?" she teases. "He was very excited when he heard I was doing (Guys and Dolls) because he thought I was Liz Callaway. Then when I got here he had to pretend that he knew who I was."
"That's just not true," says Richard. "It was backstage at Hairspray when I called you Liz Callaway. But I knew who you were because your name was on the playbill. I just got confused. (This next to the interviewer) You know, I've told her how much I like her talent and how beautiful and great I always thought she was. But it will never get into that thick brain of hers. I know she's not Liz Callaway."
When asked how they've been able to forge such a great relationship for themselves and their characters in just two short weeks of rehearsal, they state that it's just the nature of the beast. In summer stock a show has to get up on its feet quickly. The luxury of fine-tuning and delving deeply isn't afforded until after the third or fourth performance.
"We had our opening on a Thursday and I told the director that the show won't find its pace until Saturday night," says Richard. "And that pretty much was the case. It's tough to do art under these circumstances. We just get it as good as it can get."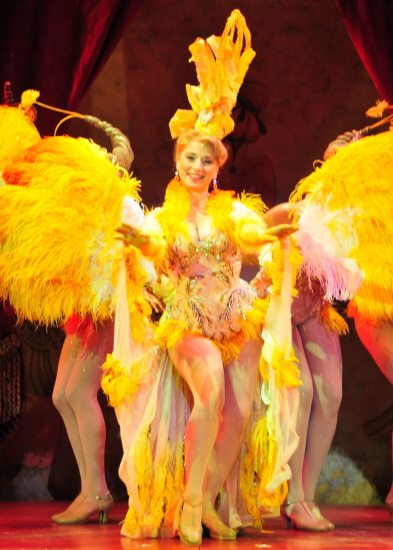 According to Liz, the process has been a little easier with Guys and Dolls than with, say, Evita, which she once did with only seven days of rehearsal. The reason? Quite simply, she states, this Abe Burrows-Jo Swerling-Frank Loesser masterpiece really is "the perfect musical."
"All you have to do is tell the story and show up and not fight the material," she says. "With so many new plays and musicals that I've done in workshops, you're in a battle with the piece itself, trying to make it work, trying to make the character mean something. With this show it's such a relief to just let yourself walk where the play takes you."
"It's a matter of staying out of the way of ruining the play," Richard concurs. "Although," he adds sheepishly, "I sort of do impose my own concept in a couple of places."
"Yes, you are very bossy," says Liz. "He's very bossy."
"Well there are two things in the thing that I…" Richard begins.
"Two things in the thing?" Liz interrupts playfully.
"…in this show," Richard emphasizes, "that I rethought a little bit."
"You mean moments…" Liz offers.
"And some that she disagrees with," Richard rebuts.
"Which ones?" Liz demands.
"Shall we get into it?" Richard challenges.
"If you want to, yeah," Liz retorts.
Given the green light, Richard goes on to describe how he has come to view Nathan's duet with Adelaide, "Sue Me," as an escalating scene.
"When I first approached it," he explains, "I just wanted to get laughs. I didn't know the song or the play well enough to understand its full implications. As we started rehearsing the choreographer said to me, 'During the first Adelaide, Adelaide, you're yelling at her and it's so not that. It's an absolute imploring.' The reason is that for the first time I've told the truth and she's getting angry! So now as puppy doggish as I can I say, 'No, Adelaide, Adelaide, it's true, I have to go. I do have to go to a prayer meeting. I know you don't understand but I do, I do!' It's almost breathy. 'Adelaide, Adelaide.' And then the second one becomes, 'Stop it, stop it, you harpy!' (Richard and Liz both laugh.) No, I'm kidding. That's only about this, that isn't about Adelaide."
After the exchange of a few brief verbal jabs with Liz, Richard goes on to differentiate his pratfall toward the end of "Sue Me" from Nathan Lane's in the 1992 revival. Whereas Lane fell face down on his stomach in response to physical blows from his Adelaide (Faith Prince), Richard falls on his back, supine, all fours in the air like a surrendered spaniel.
"People don't go down on their stomachs," Richard says emphatically. "They just don't fall that way. I'm also one of those people who say that people don't stand up on tables. I know it's done in musical theater all the time, but it's not my cup of tea. So I said, 'No, no, no. I'll go down on my knees and that's it.' Then it escalated to falling on my back because of what happens in performance. Now I totally thrash about out of absolute frustration over this woman. I'm so upset and I know the audience feels the frustration, too, because I am telling the truth and why doesn't she listen? But she's right so it's absolute frustration! But then I finally do say, and it's pure and simple, (softly) 'I love you.' Originally I think it was done with a big bellow, 'I LOVE YOU.' I mean, screaming across to her! But we've changed that. We've absolutely rethunk that moment. Now when she walks away it's not just her walking away from Nathan. It's walking away with a sense of self. We came up with that working together mutually in the rehearsal room."
Another reinterpretation that Richard prides himself on comes toward the end of the play when Nathan and Sarah have their one and only scene together. "Ah, geez," Liz interjects. "You're going to bring that up?"
"No, I don't have to," Richard demurs.
"No, go ahead, bring it up," Liz dares. Then after a pause she explains, "Richard has a concept that this one moment in the show is about him and its not."
"No," he defends. "It's about me and Sarah. Nathan says something that I believe is directed to her even though it's usually performed as if it's just something that he's talking about and has no connection with her. I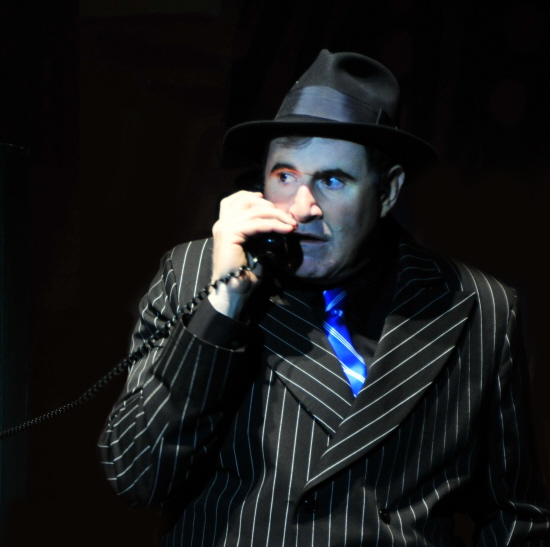 t's his line, 'I made a bet with a guy and I shouldn't have done that, but it doesn't matter because I lost the bet.' I believe that Nathan says this for a reason. Nathan knows that this woman was supposed to go to Havana. He also knows that Sky just made a bet and risked a lot of money on one roll of the dice to get 12 men into the mission. So he sees that Sky is emotionally connected to this woman. I'm not a stupid man. I may be clownish, but I'm not stupid. So I have put two and two together and say to Sarah, 'I did a terrible thing.' I connect with her and I say, 'I made a bet with a guy and I shouldn't have done this, and I'm sorry.' And then I go, 'Eh, you know what, it didn't matter because I lost the bet.' She goes, 'You lost?' And I go right back to her and go, 'Sure, he told me he did not take her to Havana.' "
"Even though you know he did," the interviewer comments.
"Now what makes you say that?" Richard asks attentively as he sits straight up in his chair. "The argument I get from these guys (gesturing toward Liz) is, 'How do I know she went to Havana?' I say Nathan has to know. Of all the things he could bring up in his life at this very moment, why does he bring up losing the bet right in front of her? The only time I've ever seen the show it was played as just a flibbertigibbet moment, a plot point. But I don't believe that Abe Burrows would just write a plot point. I believe there's got to be a reason for Nathan to say this."
Richard continues, making his closing argument as if a prosecutor pleading to a jury, "The first time I ever told the truth was when I said I was going to a prayer meeting. The first time I ever did something that gave me no benefit was telling Sarah that I lost the bet. It's a purely selfless moment and I am doing it to help her. Nathan has grown up this night. It's what enables him to go on to open the newspaper stand. The end."
Satisfied that he has made his case, Richard sits back and crosses his arms. When the interviewer agrees with his interpretation, he practically takes a bow. "Thank you," he beams. "There you go. You may put that in writing."
Eyes rolling and head in her hands, Liz groans, "You've ruined my life. There'll be no living with him now." And to Richard, "You look like a serial killer when you lean into Sarah and stare at her. You take so long. It stretches things out. By this time the audience just wants to go home. Just get to the plot point already and be done with it."
Obviously joking, Liz actually loves the way she and Richard work together. Because of the vibrant chemistry they so clearly share, she says she has been able to dig more deeply into the psyche of Adelaide than she did the first time she played the part a few years ago.
"In that production the director was also the choreographer, so I never felt like we had the time to do the necessary scene work," Liz states. "Here, even though we only had two weeks to rehearse, we made use of that time very efficiently. Adelaide is such a rich character. You find something new each night and each time you play her. I think I would jump at the chance to play her again anytime anyone asked. It's a role I have wanted to play since high school."
During Liz's senior year, Guys and Dolls just happened to be her school's big annual musical. But Liz wasn't cast as the hapless Miss Adelaide. Oh, no. Instead she played Arvide Abernathy.
"Can you imagine?" Liz recalls. "They changed the role to Arvida. I still sang 'More I Cannot Wish You,' even in the same key. I was out there in age makeup and a gray wig. I was hateful. There's no picture, thank God. I was so mad."
Asked if they feel that people can gain a true appreciation for the brilliance of Guys and Dolls if their only exposure to the show is through less than stellar high school productions in which Arvide becomes Arvida, Liz and Richard are quick to respond. Since the show is so good, they believe it can be appreciated on any level.
"Musical theater is the original American art and it just doesn't get better than this," says Liz. "There are a few musicals that just have the magic of interwoven book, lyrics, and music – Gypsy, Fiddler on the Roof, West Side Story. There are a few quintessential examples of the best that we've got, and Guys and Dolls is certainly in the top five. My son's middle school did it and all the kids went to every performance. So I think on any level it works."
Richard believes that exposure to, not necessarily appreciation of, the art of musical theater is what matters for "unenlightened" audiences. Beyond pure delight and enjoyment, parsing into the technical aspects is just gravy.
"The other day I played golf with this guy who raises horses, and he'd never seen a play before in his life," says Richard. "So I invited him and all he could do after seeing the show was go, 'Oh, man, when she was hitting you, oh, man, you went down! Oh, man, did I laugh when that bird came down.' And so on. He'd never seen a play before in his life, and he loved it."
It's that excitement and connection with a live audience that keeps Liz and Richard coming back to the theater despite success in film and television. For Liz, it's the chance to play roles like Evita, Adelaide, Cleo in The Most Happy Fella, Annie in Annie Get Your Gun, Trina in Falsettos, or Dot in Sunday in the Park with George. For Richard, it's the draw of roles like Max Bialystock in The Producers, Foxwell J. Sly in Sly Fox, Dr. Pangloss in Candide, or Addison Mizner in Bounce.
"In the case of Nathan Detroit," says Richard, "it's a role I've always wanted to play. I decided to take it here and now because yesterday was the last day I was young enough to play him. I felt like it's either now or never."
With a twinkle in his eye but a deadpan tone of voice, he adds, "I also was attracted to playing opposite Liz. When they ran down the list of people they were considering and came to Liz Larsen I said, 'Oh, she's not just a fantastic choice but I also adore her.' When her name came to the table I said, 'Thank God it's someone who can sing.'
"Of course, now I realize that's because I thought it was Liz Callaway."
There are still a few more days to catch Richard and Liz (Larsen's) act at the Ogunquit Playhouse. Guys and Dolls continues through Saturday, August 8. For a complete schedule of show times and ticket prices, visit http://www.ogunquitplayhouse.org/. Tickets are $41 to $60 and are available online or through the box office at 207-646-5511.
PHOTOS: Richard Kind as Nathan Detroit and Liz Larsen as Adelaide; Liz Larsen; Richard Kind