Actresses Spark "The Breath of Life"
Two of Boston's best dramatic actresses square off at Gloucester Stage in David Hare's unsettling confrontation between a wife and mistress coming to terms with the fallout of their choices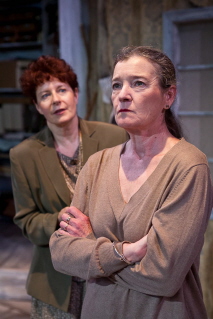 There's a lot to digest in British playwright David Hare's relentlessly unromantic two-hander The Breath of Life which recently ended its limited engagement at the Gloucester Stage in Gloucester, Mass. But if you enjoy thought-provoking theater directed and performed impeccably well, you can make a meal and a half on this biting drama.
Two of the region's most formidable actresses, Paula Plum and Nancy E. Carroll, star as staid pulp novelist Frances Beale and unconventional museum curator Madeleine Palmer, the spurned wife and sardonic mistress of the much talked about but never seen barrister Martin. When this self-absorbed philanderer decides at mid-life to toss over both wife and lover for a barely legal girl from Seattle, Frances finally takes action. She boldly invades the remote, rundown Isle of Wight cottage where Madeleine has taken refuge and insists on conducting "research" for the memoirs she intends to publish. Over the course of the next harrowing 24 hours, Frances and Madeleine share history but not empathy as they reluctantly retrace the 25 years they each have spent separately loving Martin.
One could argue that Hare has drawn his women as obsessive and needy, unable to let go and move on after being jilted by someone they both knew was chronically unfaithful. But that would be an overly simplistic view of two uniquely complex individuals whose choices in the distant past have mapped out their futures, for better or worse. Frances, a traditionalist, chose home and family, despite her husband's constant ridicule and rejection. Madeleine, an impassioned activist and feminist, settled for a part-time partner, taking up an affair with Martin when a chance meeting 15 years after their contentious Civil Rights fueled one-night stand rekindled a spark that apparently had never died.
Plum and Carroll navigate the treacherous shoals of their characters' confrontation expertly. They shift power back and forth strategically like in a chess match, alternately withholding then revealing information as if secrets were incendiary weapons. Carroll relishes in Madeleine's knowledge of Frances' intimacies with Martin while Plum calculates to find the Achilles' heel in Madeleine's aloof self-assurance. Once a late-night snack of take-out Indian curry and several bottles of beer loosen their defenses, a brief lapse into humorous sisterly camaraderie erupts into barbed accusations that ultimately – but not completely – lead to resolution.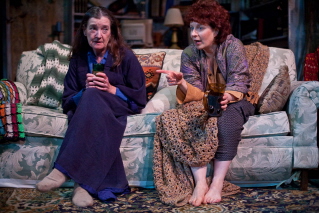 Interwoven throughout the women's personal exchanges are pointed commentaries on art, politics, society and family. Written and set in 2002, the play has a reflective post 9/11 feel to it with Hare, through Madeleine, indulging in caustic observations about America and Americans. In addition, Madeleine's ceaseless idealization of the 1960s – a time of protests, free love, and deeply passionate commitment to a cause – only heightens her bitterness over the pragmatism that her contemporaries now exalt. The reserved Frances becomes the butt of Hare's inside jokes about writers and the "art" of playwriting. Not only is she accused of chronicling rather than experiencing life, but when she hesitates to push Madeleine for the answers she so desperately desires, Madeleine challenges her to "write" the necessary climax to their escalating encounter.
Such intrusions of Hare's own voice into the dialog at times dilute the tension between his characters. His self-conscious superimposed cleverness also tends to minimize the very impact his play is trying to make. But Plum and Carroll have developed such finely etched interpretations, and director Eric C. Engel has paced their delivery so precisely, that they create far more spark on stage than Hare has written on the page. The actresses' chemistry is palpable. Plum and Carroll rivet attention even when the play tends to lose focus.
Jenna McFarland Lord's richly detailed set immediately transports us to the battered island shores off the coast of England. Weathered wood clapboards and faded, peeling wallpaper suggest the ravages of sea spray and time. Cluttered floor-to-ceiling bookshelves, a dining room table stacked with papers, and haphazardly tossed knit throws reveal an owner more interested in work than leisure. A wrap-around downstage window seat with cutaway shingled and sea grass exterior provides ample room for pensively gazing out over the dunes.
The masterful Paula Plum and Nancy E. Carroll are the breath of life in this Gloucester Stage production. Hare's material may be dense, but their performances are remarkably fluid.
PHOTOS BY SHAWN HENRY: Paula Plum as Frances and Nancy E. Carroll as Madeleine; Nancy E. Carroll and Paula Plum