Couple Brings Chemistry to "Frankie and Johnny"
Husband and wife actors Robert Pemberton and Anne Gottlieb are "naturals" in New Rep production of Terrence McNally's "Frankie and Johnny in the Clair de Lune"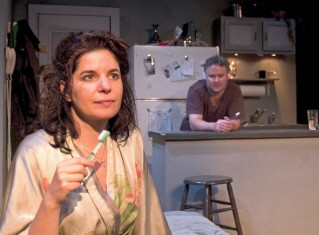 The natural chemistry between husband-and-wife actors Robert Pemberton and Anne Gottlieb serves them well as the stars of the New Rep's two-hander, Frankie and Johnny in the Clair de Lune. Written by Terrence McNally just when the AIDS epidemic had turned the promiscuous couplings of the previous decade from casual to cautionary, the play pivots on a one-night stand enjoyed by a pair of lonely co-workers who may or may not manage to turn a few hours of orgasmic escape into a deeper connection.
Considered provocative when it debuted Off-Broadway in 1987, Frankie and Johnny seems a bit old-fashioned today, despite its protracted love-making scene at the beginning and periods of extended nudity throughout. Still, there is something simultaneously sad and hopeful about this story of two perhaps not so ill-fated lovers who come together in the moonlight for sex and end up sharing more than either had originally anticipated.
Johnny (Pemberton) is a rough-around-the-edges short-order cook whose non-stop chatter and intrusive nature are as engaging as they are off-putting. Frankie (Gottlieb) is a reticent waitress who waivers between rejoining Johnny beneath the sheets of her cramped studio apartment's sofa bed or throwing him out so that she can retreat into her typical Saturday night ritual of watching television and eating ice cream.
Pemberton manages to strike a delicate balance between teddy bear and grizzly as he makes Johnny both hopelessly romantic and almost dangerously desperate. Like Frankie, we're never quite sure if we should trust his plea to seize this one fleeting chance at human connection or bolt the door against him and dial 911.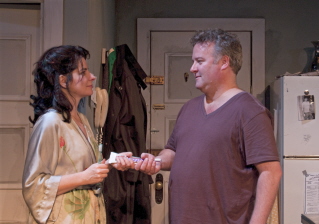 Whereas Pemberton wears Johnny's always passionate emotions on his sleeve, exposing his wounds so freely that it feels a little scary, Gottlieb maintains a gruff, wise-cracking exterior that masks Frankie's obvious unnamed pain and crippling fear of intimacy. With each of Johnny's refusals to leave, however, Frankie sees more and more reasons to let him stay.
Director Antonio Ocampo-Guzman, in his New Rep debut, has guided Gottlieb and Pemberton to be so natural in their skins – literally – that they could be lounging in the comfort of their own home instead of strutting their stuff before an audience within arm's reach. Their tremendous rapport and obvious trust translate into sparkling and tender performances.
The design team of Erik D. Diaz (set) and Chris Brusberg (lighting) has cleverly created a tiny New York apartment that suggests both the choking claustrophobia of Frankie and Johnny's stagnant middle-aged lives and the opportunity for fate-driven love that the light of the moon promises. Sound designer David Reiffel has ably added a third unseen character to the evening in the voice of a radio disc jockey who responds to Johnny's request to play "the most romantic music ever written," Debussy's piano movement "Clair de Lune."
Frankie and Johnny in the Clair de Lune continues in the Black Box Theater now through December 21 with three added performances. For dates and times, visit www.newrep.org or call the box office at 617-923-8487. The New Rep is located at the Arsenal Center for the Arts, 321 Arsenal Street, Watertown, Mass.
PHOTOS by Christopher McKenzie: Anne Gottlieb as Frankie, Robert Pemberton as Johnny; Anne Gottlieb and Robert Pemberton