"Chicago" Ends Ogunquit Season with a Bang
The Ogunquit Playhouse in Ogunquit, Maine is bringing a banner season to a close this fall with yet another crowd-pleasing musical, Chicago, performing now through October 24 at the 78-year-old seacoast landmark.
This high-energy, high-kicking production, which borrows its lean and mean staging from the long-running revival that is still heating up Broadway, features a very strong and personable cast that in some cases out perform their counterparts from the national tour that came through Boston a couple of years ago.
Most notable in that department is George Dvorsky as Billy Flynn, the fast-talking "mouthpiece" of a lawyer whose ability to razzle-dazzle juries and the press makes him the go-to guy in Prohibition Era Chicago for a bevy of beautiful murderesses potentially facing death row. Dvorsky slithers across the stage with a 100-watt smile and a neon twinkle in his eye, epitomizing the celebrity legal eagle who cares more about his own untarnished record of acquittals – and his $5000 fee – than he does about justice or the guilt or innocence of his clients. When he sings "All I Care about Is Love" surrounded by breathless and writhing chorus girls, you know he doesn't mean it, but you buy his sound bite anyway. He's that charming.
Billy's biggest headline-grabbing star defendants du jour are the hard-bitten "veteran" double murderess Velma Kelly (a dynamic Rachelle Rak)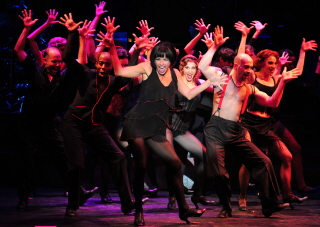 and the newest media darling and challenger to Velma's throne, Roxie Hart (the irresistible Angie Schworer). Together Rak and Schworer deliver a one-two punch that makes this production of Chicago really sizzle. Rak throws herself into her tour de force number "I Can't Do It Alone" and leads a cohort of angry lady killers in an exhilarating "Cell Block Tango" (he had it coming). But it is Schworer who ultimately works her way into your heart by revealing the dashed dreams of a once naïve young wannabe who over time has replaced real warmth and sincerity with a cold heart and a superficially sweet veneer. When she takes the solo spot and delivers a sparkling "Roxie," she uncannily evokes the vocals and the mischievous spirit of the role's originator Gwen Verdon. She also exudes the confidence and sex appeal of Jane Krakowski, an actress she strongly resembles. Schworer is not the classically petite and innocent Roxie we have come to expect in Chicago, but she winningly makes the role her own.
Paul Kreppel as Roxie's sad sack husband Amos fails to gain sympathy initially, angering too easily over his wife's infidelity and relying too heavily on a Lou Costello impersonation to convey his feelings of rejection. Once he settles into his big solo "Mr. Cellophane," however, he softens and taps into the comedy that makes Amos a lovable, if often invisible, lug.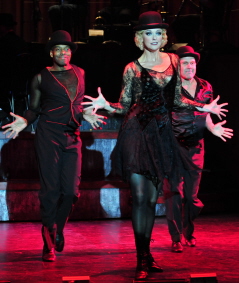 Star billing for this production has gone to Sally Struthers as Matron "Mama" Morton, primarily because she is the most familiar name draw for this tourist-based audience, but also because she has proven to be a local favorite. She doesn't disappoint, toying with men and women alike as she slowly makes her entrance down the aisle from the back of the house. She brings a Mae West swagger to her sexually charged "When You're Good to Mama" and an ironic, deadpan humor to her very funny duet with Velma, "Class." She also has a rich and resonant singing voice that harmonizes well with Rak's powerful belt.
It is A. W. Marks as eternally optimistic reporter Mary Sunshine, however, who nearly steals the show with her exquisitely pure operatic soprano. She positively – well – shines in her big solo "A Little Bit of Good." In stark contrast to the cynical, blood-lusting paparazzi who swarm the courthouse hungry for the next sensational murder or execution, Marks' Sunshine eagerly latches onto the spin that Flynn throws her, making victims out of assailants and heroines out of cold-blooded killers. She is Flynn's unwitting accomplice and biggest ace in the hole.
Direction by Gerry McIntyre is somewhat by-the-numbers, but his choreography is scintillating, especially since his corps of dancers is so lithe, exuberant and skilled. Fosse-like moves are full of irreverence and attitude. Rak and Schworer, especially, are compelling to watch.
Musical director Ken Clifton and his jazzy seven-piece band bring spark and personality to the classic Kander and Ebb score. Scott Anderson's chic, body-hugging costumes look spectacular on the taut, toned, and 100% fat-free ensemble. Lighting by Richard Latta and sets collaboratively produced and coordinated by Joe Spratt and Geoff Dolan combine to suggest a seedy Chicago speakeasy where the macabre tale of Velma and Roxie is being performed as if it were a vaudeville. And that's exactly the point of this enduring musical. Everything "Nowadays" is show biz.
PHOTOS COURTESY OF OGUNQUIT PLAYHOUSE: Angie Schworer as Roxie, George Dvorsky as Billy Flynn, and cast; Rachelle Rak as Velma and cast; Ivory McKay as the Judge/ensemble, Angie Schworer, and Rod Roberts as Sergeant Fogarty/ensemble