Charles Shaughnessy: Playing It Straight and Earning Huge Laughs in "Spamalot"
The dapper star of television's "The Nanny," "Days of Our Lives" and "Mad Men" finds his grail as King Arthur in Ogunquit Playhouse's sparkling production of "Monty Python's Spamalot"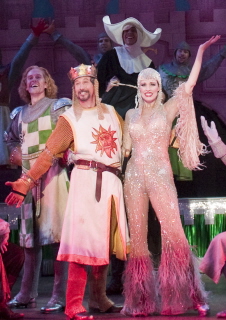 Affable stage and television star Charles Shaughnessy – best know for playing Broadway producer Maxwell Sheffield in the hit 1990s television series The Nanny – is currently bringing his natural wit and effortless charm to the role of King Arthur in the Ogunquit Playhouse's rollicking production of Monty Python's Spamalot. Continuing at the 78-year-old Maine seacoast landmark through September 11, Spamalot also stars Broadway's Rachel York (City of Angels, Victor/Victoria, Dirty Rotten Scoundrels) as The Lady of the Lake and Jeffry Denman (Cats, The Producers, White Christmas) as Sir Robin.
Though recognized for his many years on The Nanny, Days of Our Lives and most recently Mad Men, Shaughnessy is no novice to musical theater. He has starred as King Arthur in Camelot, Henry Higgins in My Fair Lady and Caldwell B. Cladwell in Urinetown on Broadway. A British native born into a show business family (his mother was an actress and his father the principal writer and script editor on Upstairs/Downstairs), he studied drama in London and spent many years performing on stage before getting his big break on daytime television in Los Angeles. An alumnus of the famous Footlights Revue comedy group in Cambridge, England and a self-professed Monty Python fan, Shaughnessy is well equipped to handle both the pomp and the absurdity of his role in the Tony Award winning musical "lovingly ripped off from the motion picture Monty Python and the Holy Grail."
"I have to confess, I didn't really want to have anything to do with Spamalot originally," Shaughnessy says candidly in a recent telephone interview. "As a Monty Python purist, I thought the musical would be just a cheap shot to get all the fans to come and quote all the lines.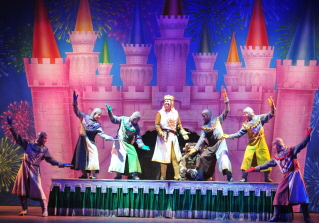 But I have to say that seeing the way this show came together in rehearsals, I now love it. The show actually works. The songs and the lines aren't thrown in willy nilly. It all makes sense. Before seeing the show I was unconvinced. But now I'm a big fan."
Shaughnessy credits director/choreographer Scott Taylor and his "incredibly talented" cast with making a convert out of him. When not involved in a scene, he enjoys watching the hilarity that is swirling around him.
"I'm having a blast," Shaughnessy exclaims. "Scotty has come at this with incredible energy. With eight days to get the show up, there's booster rocket fuel behind it anyway. But coming at it as a choreographer who had been in the original show, Scotty had a natural sense of rhythm. He absolutely got it that any sort of indulgence and any sort of 'playing the comedy' was going to detonate a huge bomb under it. He was very keen to just let the comedy play itself. He was very, very adamant about that. He said, 'If you find yourself being funny then you're doing something wrong.' "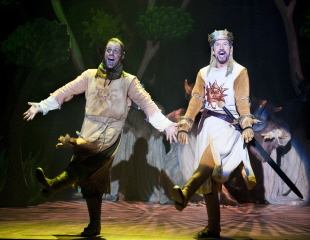 Taylor's approach to creator Eric Idle's outlandish material is paying massive dividends in Ogunquit these days. He and his cast have managed to bring a hilarious spark to jokes and songs that often go "on and on and on" by mixing inventive bits with exquisite comic timing. A show which felt stale during its national tour is now fresh and genuinely funny. Members of the entire ensemble – principals included – are serving the production and not their own egos. The result is a non-stop joy ride that never lets the audience see it sweat.
"This cast is fantastic," Shaughnessy beams. "They are so good at what they do. Their routines, their musical numbers, their singing – I'm laughing as much as anyone. When I'm not actually speaking I really enjoy watching it."
Much of Shaughnessy's career has been spent playing the straight man reacting to the comic chaos around him. He says that suits him just fine. Every clown needs a foil to make the comedy work, and Shaughnessy's easy chagrin perfectly suits him to play the nonplussed Abbott opposite the more colorful Costello.
"You do get cast in similar roles because of certain traits that you bring," says Shaughnessy. "What I bring to this Arthur has a lot to do with Mr. Sheffield.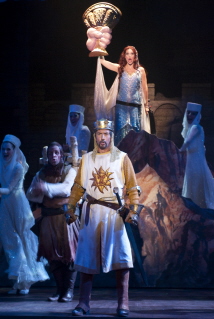 I bring the slightly wounded pride and frustrated authority. In 'The Nanny' Fran and Miles took absolutely no notice of my character's authority. I was constantly undermined. I'd say, 'But I'm the father here,' just as Arthur says, 'But I'm the king.' In both cases nobody pays attention to it. Both men are constantly struggling with a lack of respect.
"What's nice about Spamalot is that Arthur is redeemed in the end," Shaughnessy says. "He realizes that the Lady of the Lake has been with him all the time. Patsy and the Knights have been with him all the time. He's not alone. I think playing Arthur as a real character, a serious character with a sincere through line, helps ground his reactions so that they are not over-reactions. In trying to play the truth of every moment, the comedy comes through naturally. The audience identifies with the character because his frustrations are real. That's what makes it funny. If you comment on it, trying to make it funny, that's when it all falls apart.
"Spamalot" continues at the Ogunquit Playhouse through September 11. Tickets, priced from $49 to $67, are available online at www.ogunquitplayhouse.org or at the box office by calling 207-646-5511. The season concludes September 15 through October 24 with "Chicago" starring Ogunquit favorite Sally Struthers as Matron "Mama" Morton.
PHOTOS COURTESY OGUNQUIT PLAYHOUSE: Chalres Shaughnessy as King Arthur and Rachel York as The Lady of the Lake; Charles Shaughnessy and the cast of Spamalot; Jeffrey Scott Stevens as Patsy and Charles Shaughnessy; Rachel York and Charles Shaughnessy